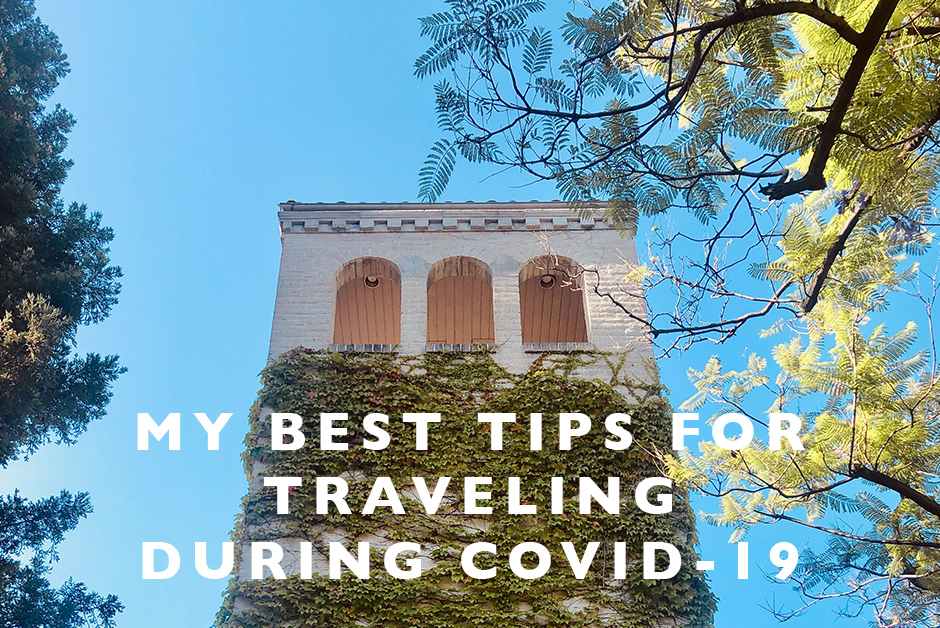 After months of staying in one place this past Spring during the lockdowns for COVID-19, I knew this Summer would be a lot different in terms of the "travel" I'm used to and love.  We have canceled so many trips this year due to COVID and honestly, it really started weighing on me in July.  Not having the freedom to just go somewhere was really getting to me so we decided that just because we couldn't travel internationally, or even very far for that matter, we could still safely travel closer to home and see some places that we hadn't seen before or that have been on our "to see" list for a long time.
Since May, we're done overnight and day road trips as well as flown and in that time, we've learned a lot about what to do and what not to do for traveling during this weird time.  If you're thinking of traveling or unsure of what the situation is out there right now, here are my best tips for traveling during COVID-19.
Roadtrips are the easiest right now.
While we have flown a couple times during COVID-19, honestly, our road trips have been a lot easier.  If you're in your own car, you're safer.  We've done a couple day trips as well as a couple longer road trips and it really made the whole situation easier.  You're still getting to see new places but in the privately and safety of your own car, as well as having the flexibility to adjust your trip as needed based on how safe you feel in any given location.
Flying isn't all that bad.
On the flip side of driving though, flying isn't all that bad right now either.  We've done a couple flights from Portland to Pasadena to see my parents and honestly, it was not bad at all.  We've flown Alaska both times and have been really pleased with how they're handling this whole situation.  Flights aren't full, masks are required and the plane's air systems are the same that you'd find in hospitals so the air is circulated well and often, making it a pretty safe environment during COVID actually.  I don't know if I'd fly super long distances right now, but for quick flights domestically, it's pretty easy.
Bring snacks if you're driving.
For roadtrips, we've found it's best to bring a bunch of snacks and food if possible.  The less you stop, the safer you'll be.  We did things like pasta salad and salami in a cooler as well as chips and other snacks to grab when you're hungry.  Also due to COVID, many restaurants on the road are still not open and even if they are, we prefer not to eat inside right now so most of the options we've encountered has been fast food.  If that's not your thing (it's not mine!), then bring snacks.
Load up on antibacterial wipes and gel.
Our cars are both loaded up always with antibacterial gel and wipes.  Our routine is whenever you have contact with someone or contact with an item (like filling up our car with gas), you wipe down your hands.  We're a little OCD on this actually but I feel, especially right now, I'd rather be safer than sorry.  Have a large stock of these items ready in your car for your road trip to be prepared.
Masks, masks, masks.
Even the places we've gone through that some people weren't wearing masks (it's actually not been all that many), we've been in masks the whole time.  Even if for just a couple minutes when interacting with someone on a roadtrip, mask up!  We take a large stock of masks with us and have them easily accessible to grab quickly as needed.
Try to limit trips to 1-2 nights.
So far, we've limited our trips to only 1-2 night if we're staying in hotels just to be safe.  I'm sure as we move forward I'll feel more comfortable with longer but for now, that's all I really would like to do to limit my exposure to possible COVID-19.  For the most part, our nights in hotel over the past couple of months have been relatively normal other than the fact that immediately upon arrival, I wipe every surface and handle down before using anything in the room.
Stay with family if you can.
What we've been doing the most of that last few months is utilizing staying with our family members in different parts of the West Coast.  Whether it's my parents in Pasadena or Nick's family in Southern Oregon, for longer trips we've stayed with family so that we can just stay home and limit everyone's exposure.  My parents are staying very close to home so we feel comfortable going down to Pasadena, even though LA County is still experiencing a large number of cases, we're staying so close to their house when there that it's not much different than us being at our house in Portland.  But sometimes, just a change of scenery makes all the difference!
*Obviously for this note, make sure your family is being safe and careful before staying with them!  Ours are taking it really seriously so we feel comfortable.