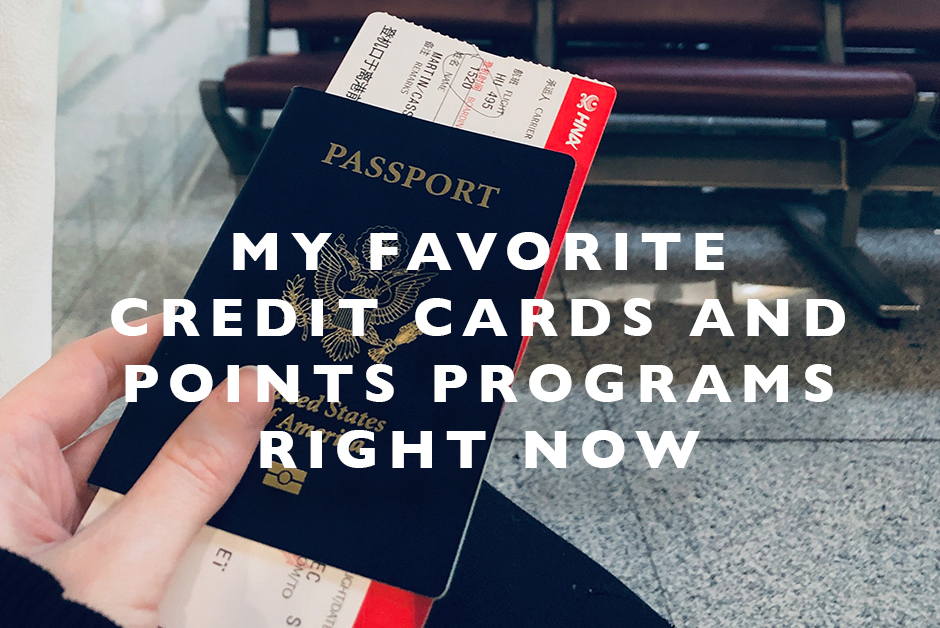 As many of us start contemplating travel again during this season of COVID-19, even if that travel is close to home, now is the time to start looking into credit cards and points programs that can help you pay for some of the costs of travel once we start exploring far and wide again in the future.  It's been a long time since I've done a post on my favorite credit cards and points programs here on LOM so let's chat about which programs are my favorite right now, especially the programs that you can sign up for now and start banking miles for whenever we start getting back to our normal travel schedules.  It takes a decent amount of organization and know-how to use credit cards and points programs to your benefit.  So if you're just starting out with points programs or you want to dive deeper, here are my favorite credit cards and points programs for travel right now and how I use each one to travel more!
Alaska Airlines Loyalty
Ok so to start, living in Portland, we like to fly Alaska Airlines as much as we can when flying domestically as we have an Alaska Air hub at PDX.  Flying Alaska Air just makes sense for us 99% of the time.  Years ago, we decided to make Alaska our go-to airline and if we're traveling in the US, we're almost always going to opt to fly with them so that we can rack up miles all in one place with one airline.  Over the years, as we traveled more, we got to the point where we were becoming elite members of the Alaska Air loyalty program, meaning we got free upgrades, more points when we flew, etc.  And those points start to really add up!  Even without making it to their elite levels, Alaska Air points are really valuable in the travel world.  Not only can you use them on Alaska flights, you can also use them all over the world on their partner airlines and they are one of the only airlines left in the US that offers points for actual mileage flown which is really valuable. Alaska points also don't take a ton of mileage to fly places so they are a great loyalty to have with points in the bank.
Alaska Airlines Credit Card
Since I fly mostly on Alaska Airlines domestically within the USA and hope to continue to do so, I'm also a big fan of their credit card.  I have one personally as well as having one for my design business, (Nick has one as well) and they definitely pay off for us.  You get a bunch of perks with the card like free checked baggage, which we don't ever use because we fly carry-on only, however the perk that we really take advantage of is the Companion Pass.  Even if you don't charge anything to the credit card, every year, for each card you have (so I get 2 per year, one for each credit card I have with them), you get a companion fare.  This means that you can take someone with you, on any Alaska flight, on any day of the year and only pay $100 plus taxes and fees for that person.  We use this companion fare mostly for trips to Hawaii as that is the most expensive place we're usually going in the US.  That means, that say my tickets to Hawaii are $400, Nick's would be only $100 additional when he's flying with me.  The companion fare has saved us hundreds, if not thousands, of dollars over the years and is one of the best credit card perks out there in my opinion.
You'll also get mileage for every dollar spent on the card and that helps your Alaska points in your account add up faster too!
Check out more about the card here.
Chase Sapphire Credit Card
The credit card that we actually put the most money on out of all of our cards are our Chase Sapphire cards.  Nick and I both have a Chase Sapphire credit card and it's really an amazing points program.  There are certain categories of spending that give you double points or more on this card and travel is one of them.  So when we're putting our travel expenses on this card, we're actually getting double the points in our loyalty account, hence why this has become our go-to credit card for travel.
I love this credit card for a few reasons, first, it has no foreign transaction fees, so I love using it when abroad.  Second, you can use your Chase points that you gain from using the card in their travel portal for any airlines, any destinations as well as for rental cars and other travel related experiences.  The best part of that though, is that when you book on Chase points, you still actually get the points for flying on the airline you end up on!  So for example, if I book an Alaska flight on Chase points from their portal, I actually fly for free on that flight on top of gaining those points for the flight in my Alaska account… it's basically double dipping and it's amazing!
The Chase Sapphire card also has great travel insurance and we've used that in the past when we had to cancel a trip for a family illness and they helped us out.  And finally, one of my favorite perks of the card is that you can pool your points with family members.  For instance, Nick has his own Chase Sapphire card on a different account than me, however, each month, he can go online and move his points into my account.  This means that as a family account, your points accrue much faster as more people are putting points in to one account meaning you have access to more points which in turn means you can book more on points.  All in all, we love our Chase Sapphire credit cards and I'd highly recommend!
Check out more about the card here.
Marriott Hotels Credit Card
A couple years ago, we decided we should probably choose a hotel loyalty just like we do for airlines.  And while yes, we technically do now lean towards a Marriott property if we're staying at a chain hotel, what I actually love most about the Marriott Hotels Credit Card are the options for free hotel nights.  Every year, on your anniversary of the card, you get a free hotel night at a Marriott property.  You also get free nights when you get so many points per year or when they offer specials and I've definitely taken full advantage of that option.  On our upcoming road-trip to Utah, we're actually staying two nights at two properties all for free using my Marriott credit card points.
Check out more about the card here.
Hertz Car Rental Loyalty
Just like airlines and hotels, we rent a decent amount of cars when we travel and while I usually go with the lowest price on a car rental, if Hertz is close, I'll usually go with them.  For one, they are partners with Alaska Airlines so when we rent a car through Hertz we get Alaska points.  Second, I've found that in most places in the world, they are the easiest to get to in an airport and easiest to access.  For example, in a lot of airports, you have a handful of car rental companies that have their desk in the airport itself and others that you have to go off site to get to.  I'll always choose convenience when traveling and Hertz is usually one of the ones that have a counter in the airport itself.  I also like that you can be elite with Hertz in not that much time and that allows you to have quicker access to your rental car when you arrive.
Hotels.com Loyalty
And finally, the last program that I use on a regular basis.  I have definitely had ups and downs with Hotels.com, to be completely honest.  I actually stopped using them last year after a debacle with trying to cancel a hotel (that ended up getting covered through our Chase Sapphire Credit Card) and they were no help at all.  However, I can't deny that their loyalty program has saved me hundreds, if not thousands, of dollars over the years.  For every 10 nights you stay booked through hotels.com, you get a free night through them up to the average amount of the 10 nights you booked.  My average usually ends up being around $250-$300 and I get at least a couple free nights per year due to the amount we're traveling.  I try to use those free nights for higher-end properties that I wouldn't typically pay out of pocket for and even if the room is $400 per night, I only end up paying around $100 by using my free night.  So while I definitely have had issues with Hotels.com in the past, for me financially, it's still well worth it in how much I save with them.
Any other great travel loyalty programs that you love?