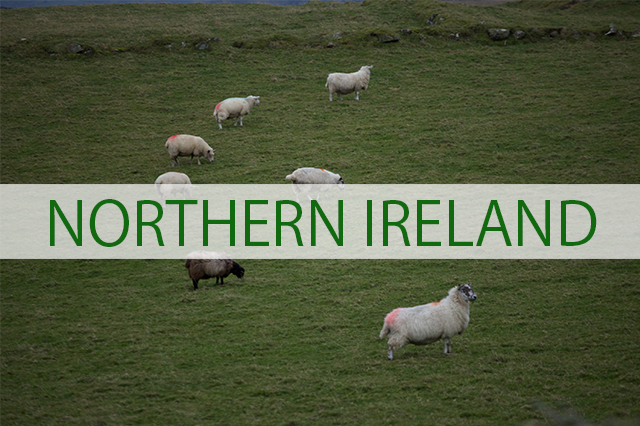 On the 4th day of our recent trip through the UK & Ireland, we headed off to Dublin Connolly Train Station for a morning train up to Belfast.  We learned in the cab ride to the train station that Belfast had had a bomb scare the previous day (which made us wonder if our train would be running) but all seemed fine, so we enjoyed a scenic 2 hour train ride to Northern Ireland.
Upon arrival in Belfast, we were planning to head straight to the airport to pick up our rental car and head up to the Northern Coast and eventually to the Giant's Causway, a UNESCO world heritage site that Nick in particular really wanted to see and photograph.  After a crazy cab driver (who we couldn't understand one word from), figuring out how to drive on the wrong side of the road and figuring out the freeway system in Belfast (which is excellent by the way), we were on our way North, albeit much later than we had anticipated.  Long story short, after meandering through a few small Irish towns and having lunch by the harbor in Ballycastle, we arrived at Giant's Causeway at 4:17pm, with light darkening and tickets stopped being sold at 4pm, we decided we'd just extend our car rental for the following day and come back when there was more light and we could enjoy it more.
We headed back for Belfast (a pretty quick 1hr 30min drive) and spent our evening exploring the amazing Christmas market under the sparkling lights of the Belfast City Hall.  This was my first European Christmas market and it did not disappoint!  We wandered around, ate apple strudel, roasted pork, yorkshire pudding and took in the magic of the holidays!
Where to Stay in Northern Ireland