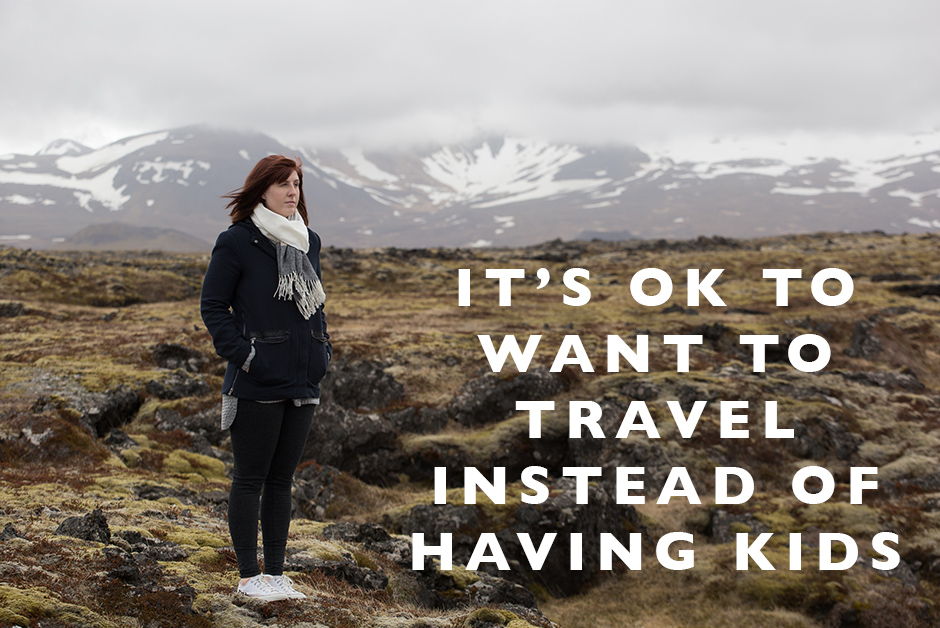 If there is one thing that comes up more often than anything else in my life, it's the subject of having kids.  I can't tell you how many times I hear "you guys will want to be having kids soon right?" or "you better travel all you can now before you have kids."  And it seems, without even really knowing it, that a lot of people just assume that every woman should have kids, that because I'm almost 31 years old that I should start having kids, that because we travel a lot now, that we're doing it to get it out of our system before we have kids and "settle down."
To all the women reading this, I'll say this loud and clear: it's ok to want to travel instead of having kids.  It's ok to want other things from your life.  It's ok to want a career or a life full of adventures instead of having kids.  It's ok to be a woman and not want children of your own.  As women, we should be supporting each other's choices instead of judging them.  And my choice is to travel, far and wide, instead of having children of my own, plain and simple.
You see, I've never felt the urge to have kids of my own.  I've never held a baby and thought, "oh I want one of my own" or played with my nieces and said "I can't wait until I have kids of my own."  I've heard for a long time, "you'll change your mind."  And while I would never say never, I can say with a pretty significant certainty that I know myself and I know what makes me happy – and kids aren't the answer for me.
Often times in our society, women are made to feel selfish for not wanting to have kids and it's often just assumed that as a woman, that a large part of our lives is to raise a family of our own.  For me, my decision to not have children stems from quite a few different reasons and whatever our reasons are (and everyone's are unique to them), doesn't mean that I'm missing out on something in my life.  In fact, I truly believe that I'm gaining experiences that women who do have kids might miss out on, that I can offer something different to the world, and still no less meaningful than having kids.  I don't judge my friends and family for wanting to have kids, nor should I be judged for the opposite choice.
Growing up, I never dreamed of having kids of my own or coming up with names for future children I might have someday.  Instead I dreamed of traveling the globe, of seeing and experiencing different places and people all around the world.  So if you're reading this and nodding your head, feeling the same frustrations I've felt over many many years of being judged for a choice I made long ago, then just know that I feel you.  I've been there.  I've been accosted by people I don't know, I've been questioned, I've been told I'm wrong and that I don't know what I'm talking about.  And yet, I wholeheartedly believe that as women, we need to stand up and support each other, no matter what our choices are for the lives we want to create.  So if you want to travel (or whatever your dream may be) instead of having kids?  Make the choice that's right for you and I'm here to say, more power to you!