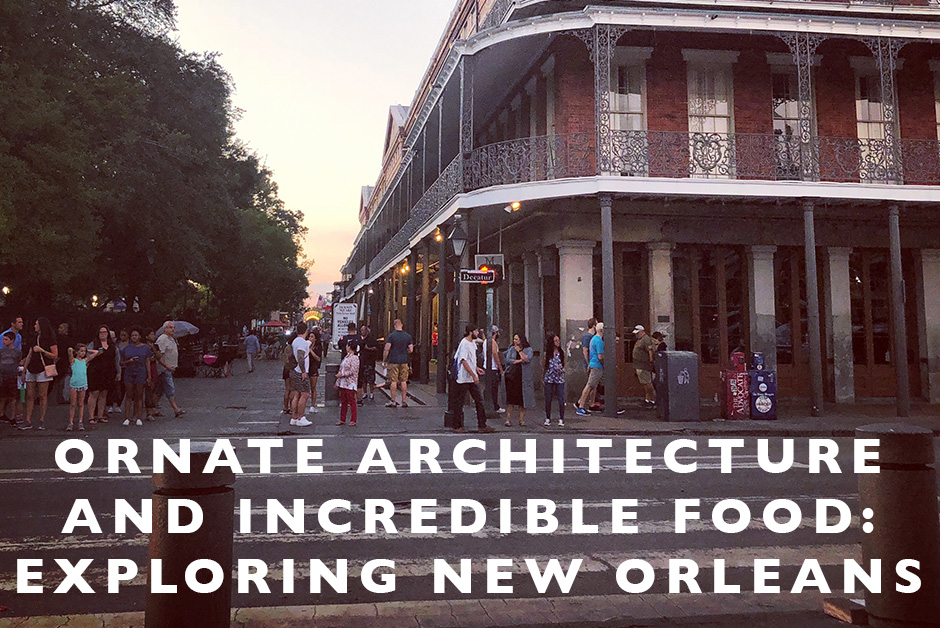 Five years ago we headed to New Orleans for the first time.  Long story short, the trip wasn't a great one.  So this year when the opportunity came up to go back to the Louisiana city, we thought it was time to give it another shot and I'm so glad we did!  We ended up really enjoying our time in NOLA this time around and got to explore so many new and different areas that we didn't get to see last time around.
We stayed in the French Quarter, but farther away from Bourbon Street than last time, which afforded us a very different perspective of the city.  We also had better expectations of the city going into our trip and were able to explore differently than the previous time.  All in all, New Orleans really is a unique destination all in itself and there is no other place like it.  The ornate architecture, the details in every building, provide a sense of place that could only be in New Orleans.  The food, Cajun and Southern is out of this world and truly a testament to the region.  New Orleans is one of those places that has a very specific kind of charm: old buildings that look like they are truly falling down around you, French and Spanish influences that are reminiscent of European cities but totally unique to NOLA and an American culture totally specific to this part of the country.
Some of my favorites spots to check out in New Orleans:
Cafe du Monde – I don't think you can come to NOLA without a stop here for their famous beignets and cafe au lait.  My recommendation – go in the evening while everyone is at dinner or the bars and you won't even have a wait!
Cafe Beignet – This cute little spot on Royal Street in the French Quarter is one of my favorites.  They have regular food too but their beignets and iced lattes are to die for.
NOLA – Emeril Lagasse's restaurant in the French Quarter is a great option for dinner.  We went on our first trip there and again on this trip and were not disappointed!
Muriel's – This was a recommendation from a local friend of ours and for a fun local New Orleans dinner, this place was great.  The rumor is that it's haunted and while I really wanted to have a drink in their Seance Room upstairs, it was booked the whole time were there.  But we did have a glass of wine in their courtyard bar and dinner in their main dining room and the whole experience was great!
St. Roch Market – This great spot in Bywater is an indoor market full of amazing food options. We went for lunch and could hardly decide what to get because everything looked so good!
Headed to New Orleans?
See more of our New Orleans content here!