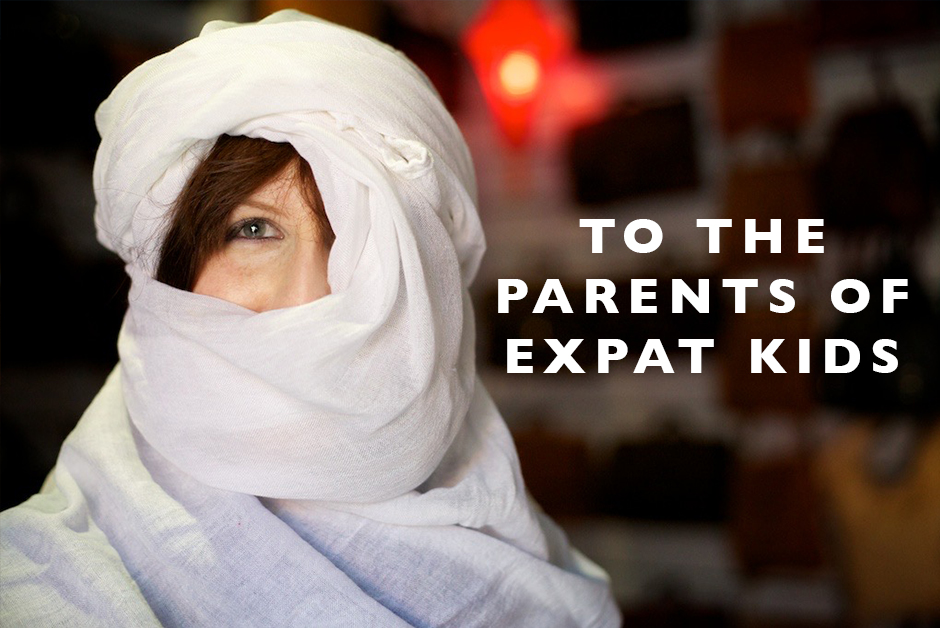 I've often talked here on Land of Marvels about my childhood growing up in the Middle East as an expat kid.  And in the time I've written about my experiences here on my blog as an expat and then as a Third Culture Kid, moving back to the States, to a country that didn't feel like home to me, I've had a number of expats (past and present) reach out to me.  I love discussing what being an expat means and how we deal with it, but I also think that there are a lot of people out there that are now becoming parents of expat kids, kids like I used to be, growing up in a foreign country, not sure where they belong.
So today, I thought we'd take a different direction.  I look back on my years as an expat kid in the Middle East and then my subsequent years in the US after we moved back when I was in Middle School and there is so much I wish I would have known and so much I'd love to tell expat parents now.  Being an expat is hard, no matter what age you are, but being an expat kid sometimes can be even harder than adults realize.  Here's my best advice as a former expat kid to all those expats out there raising kids today!
Listen to your kids.
As an expat kid, sometimes it's hard to come out and say what we feel and it can often be daunting to even express all the feelings going on inside.  So when your kids do want to share their feelings or frustrations about their situation, listen to them without judgment.
Offer them resources.
When I moved back to the States, the internet was just becoming usable to average people and AOL instant messaging literally changed my life.  I could talk to all my friends from Saudi again instantly no matter where they were in the world.  I also started researching the expat lifestyle and later in college, came across the term Third Culture Kid that brought more clarity to my life than I had had in years.  It's really important that kids that grow up abroad are able to have access to resources to help them grow in their expat identities and offer a connection to those former homes that will always be missed when they leave.
Acknowledge that your experience is different than theirs.
I think a huge part of being an expat family is acknowledging that everyone in that family is going to experience expat life completely different.  The way my parents experienced our life abroad was completely different than I did.  For example, they had a whole life before going abroad and grew up in the US which was a familiar country to them.  I was born and grew up abroad, so even through we went back to the US for vacation in the Summer, it wasn't home to me.  The most important part of being an expat parent is realizing that how you feel about being an expat and how your child does, are two completely separate feelings.
Be aware that moving probably is harder on them than you.
Moving from your expat home is always a challenge but it's important to remember that no matter how stressful and difficult it is for you as a parent, it's probably harder on your child.  I will never forget the vivid memories I have of the day we left Saudi, saying goodbye to my childhood home, the only place I had known, the people I had grown up with, my friends.  I remember standing there next to our car waiting to take us to the airport and just crying uncontrollably.  For a child that's never called another place home, it's incredibly difficult to understand at a young age what saying goodbye means but at the same time knowing you might never see that place again.
I still struggle with this today in fact, knowing that because I grew up in Saudi Arabia and it's still quite difficult to get into the country with a visa, I might never see my childhood home again or be able to show my husband where I grew up.  Leaving your expat life is never easy, but as a kid, it's even harder.
Celebrate their diversity and give them time.
I struggled a lot the first couple years back in the States.  I didn't feel like I fit in, I didn't feel like anyone around me understood such a huge part of my identity.  And the only way to get through those feelings is time.  I finally realized that I should be celebrating my history and my identity instead of trying to hide it because it made other people feel uncomfortable.  I'm so grateful that my parents have always celebrated the diversity that our time abroad brought to our lives instead of diminishing or trying to hide it.  It's an amazing thing to call another country home and to keep that as part of your life and identity forever; I've learned over many years that while people still often don't understand my background or how I grew up, it's made me a better person tenfold.
Interested in reading more about my childhood in Saudi Arabia?
See all of my posts on the country!