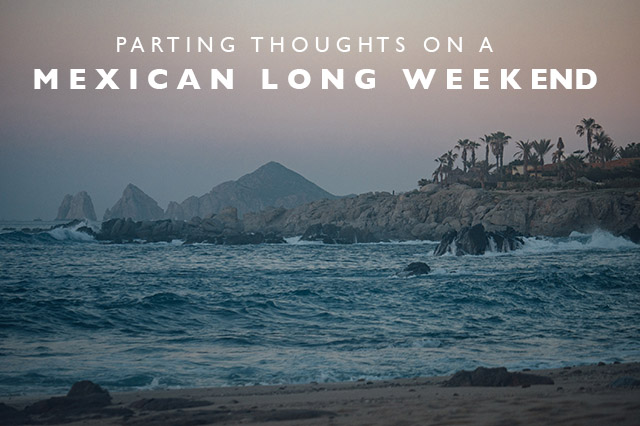 To somewhat finish up my Mexico posts, I wanted to stop for a moment and reflect on our long weekend in Cabo.  In the end, sadly we left not loving Cabo with its never ending hotels and Cabo San Lucas' bar culture.  It was incredibly hot while we were there which drained us even further and we had some issues on the last day leaving which didn't end the trip well either.  But such is the truth about certain places we visit, we might not love them, we might not fall in love with them, we might have issues.
Not every place we visit is going to be perfect for us, but the goal is to walk away understanding the place, understanding maybe why we didn't connect or why it affected you a certain way.  I didn't love Los Cabos, but on that same note, I did fall in love with a lot about Mexico as a country.  I loved the passionate kindness from the locals, the bright exotic colors everywhere, the gorgeous landscape, the overall feel of the country.  Those things I loved and it actually made me want to explore other, more authentic parts of the country in the future.
I think that perhaps had the weather been cooler, had we not had so many issues, perhaps our visit would have been different.  But such is travel, things always don't go according to plan, places don't jive well with your travel style or the weather isn't what you expected.  So with all that we experienced on our long weekend in Mexico, I took away from it that while Cabo may not be a place we return to, I would love to return to other parts of the country and take the things I loved about Cabo and experience those in other places in Mexico, to celebrate the beautiful country that it is.