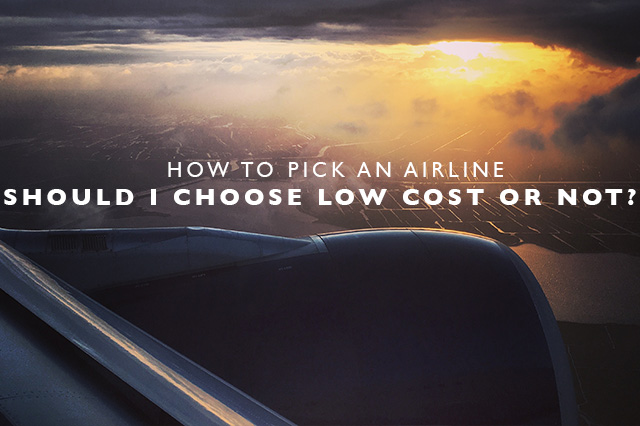 I've been helping some family members look at airfare deals lately and it got me thinking that I haven't written too much here on Land of Marvels for how to pick an airline for your travels.  There are so many choices out there now for travel all over the world and sometimes it's hard to know which airline might be the best choice for you.  Should I choose low cost or not?  Should I upgrade or not?  All these questions are valid and hard to know the answers to, so today here's my best tips for choosing whether a low cost carrier might be the best option for you or not.
Are you flying for an experience or just to get to your destination?
The first question you should ask when picking a low cost carrier or not is your motives when flying.  Do you want an experience, decent food, a comfortable lie flat seat and attending flight attendants?  If you do, then you're probably better sticking with the normal large carriers and upgrading to a higher class than economy.  But if you're flying just to get to your destination and you don't really care, then a low cost carrier might be the perfect option for you at a huge discount!
Not all low cost carriers are created equal.
The first and most important thing to know about the low cost airlines out there is that they are not all the same and they are not created equal.  There are some that are way better than others so it's helpful to get all the facts and then choose.  For example, for cheap flights within Europe I much prefer EasyJet over RyanAir due to a few different factors.  Flying from the US to Europe, I much prefer Norwegian Air over a lot of other carriers because they fly Dreamliners and the plane is a lot nicer.  So do your research and find out what each airline choice has over another and then make your choice.
Pay to pick a seat, but not to buy a meal.
I will always suggest picking a seat when booking, even if you have to pay for it.  There is nothing worse than being stuck in a horrible seat for 10 hours.  So even if you have to pay, pick your seat when you book your ticket.  Also take a look at the seat maps before you book so you know where you'll want to sit.  On different airlines, I like to sit in different places – for example, most of the time I like to choose to be near the front of the cabin or in an exit row, but on Norwegian Air, they have 2 rows in the back by the window with only 2 seats and a ton more leg room that I always book.  So take a look at the seat map and then pay to book your seat when you book your flight.
On the low cost airlines, most of them make you pay for a meal.  In truth, usually the food is pretty bad anyways so I opt to buy food at the airport before my flight instead and bring it on the flight.
Upgrade the day of the flight, not when you book.
Most of the low cost carriers still have a business class section on the plane and while it's not going to be the lie-flat pods that most large airlines have, it's definitely an upgrade from economy.  When you book, usually those upgraded seats are still pretty expensive compared to the cheap economy fares.  The trick is to wait until the day of your flight or whenever you can check in and upgrade then.  Usually the upgrade costs + your fare is a lot less than you'll pay farther out.
Go direct versus stopovers.
Low cost carriers are popping up all over these days but they are still only flying out of certain airports and it's worth figuring out whether having stopovers or having to travel to other airports to fly out of is still cheaper than just a normal fare on another airline.  For example, when we fly Norwegian Air to Europe we have to fly out of LAX (though they are starting to fly out of Seattle this Fall which I'm really looking forward to!).  So even if we're getting a super amazing airfare deal (like our $350 round trip tickets to Stockholm in January), we still have to get to LAX and have a layover, etc.  Another example is flying Iceland Air to mainland Europe, where you have to say go from Seattle to Reykjavik and then on to Mainland Europe with a layover in Iceland.  You'll want to see if it make sense financially and time-wise to have stopovers.  I always try to go as direct as possible as it just relieves a lot of stress!