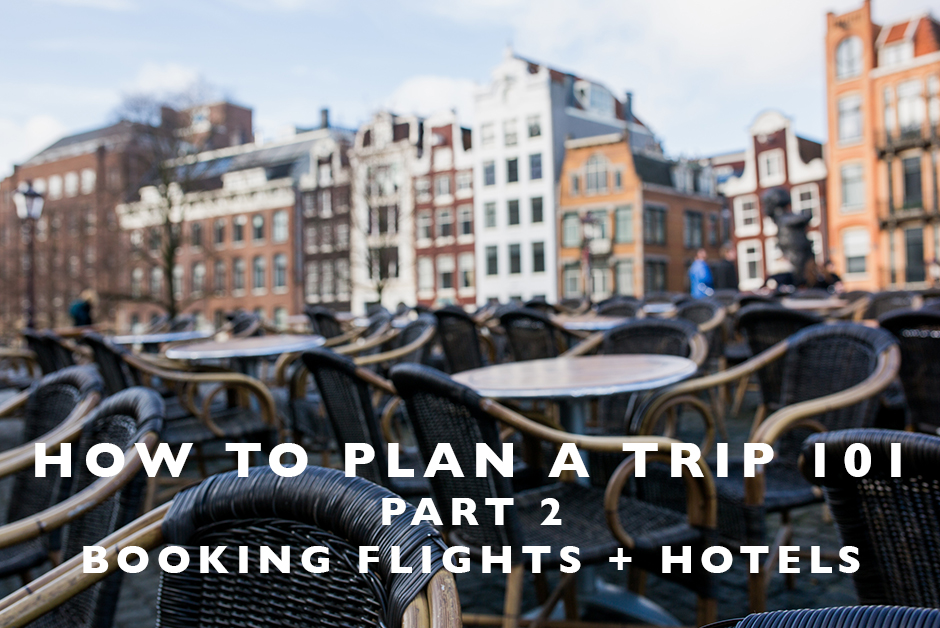 If you're thinking to yourself right now, "I want to travel, but I'm not sure where to start," then this series running this week is for you!  I will be outlining the steps to start traveling, starting long before you book the trip, through the planning process and then afterwards.  So follow along all week for my How to Plan a Trip 101 Series!
So you have the money for a big trip and now you're thinking how do I actually book all of this?!?  Well the answer is in the details for a trip, so knowing some insider information about travel can really help make a trip amazing, versus just alright.  Whether you're booking flights, hotels, or transportation between place A and B, you'll need to know some information and do your research so that you get the best deal for the price you want to pay, but also just so the trip is easy and seamless and requires the least amount of energy possible.  So here below are my best tips for booking flights and hotels and anything else you need to make your trip amazing!
For Flights, pick a hub.
When you're booking your flights, figure out which major airport will serve as your hub to fly into.  For example, if you're headed to Europe, determine if Paris or London would be your best point of entry dependent on where you're headed.  It's easier to search for flight deals if you know where you want to fly into.  If you're not picky, that's fine, but it's often easier to know exact airports to search for deals, especially if you want to find a cheap flight.  It's also important to know what airport hub you'd like to fly out of near your home to find out where flights go from there.
For us in the Pacific North West, it's easier to get direct to London than Paris at the moment, so we'll often use London as our hub.
Next, once you know the airport you'll probably fly into, I take a look at the airport's Wikipedia page which lists all the airlines that fly there and where they fly to.  This way you'll get a sense of how you might be able to get there and on which airlines to fly.  This is helpful as some budget airlines don't show up on big searches on sites like Orbitz so you actually might be missing out on some amazing deals.  Norwegian Air for example does this and a few others.
Once you've found an amazing deal and you're ready to book, unless the deal is crazy amazing in which case you should book immediately, wait to book it for a few days, particularly if you're looking on a weekend.  Airlines are notorious for upping prices when the majority of people are looking for flights so hold off and book on a weekday (Tuesdays are usually lower prices).
For Hotels, determine what you want before you start searching.
Before you even enter your destination in a search bar on a hotel website, determine what you want first.  Do you want a boutique hotel or a chain hotel?  Do you want under $200 per night or don't care what the price is?  Where do you want to stay within that city?  Do you want to be right in the center of it all or stay on the outskirts?  Answer all these questions for yourself before you even begin searching, this way you'll be able to narrow down options way quicker and won't be overwhelmed with hundreds of options.
If you decide you want a boutique hotel, head first to Tablet Hotels.  I love this site because it shows you only boutique hotels in your location instead of all the chains as well.  I use this site for research to make a short list of which hotels I'm interested in and then look into them further on Trip Advisor and then ultimately book on Hotels.com because of their loyalty program.
If you are partial to a certain chain brand hotel, like say Marriott, then I suggest using their website to search your location.  If you collect loyalty with that brand, book through their website as you'll get the most points that way, but if you don't, find the hotel you like there and then head to hotels.com to book.
As for determining location, I research a ton before booking to figure out where is best to stay.  If you're really looking forward to a certain monument in a city, I recommend using the Landmark filter on hotels.com to narrow down the hotels near that location.  Sometimes being close to a landmark is a great option as it might have an amazing view or it might allow you to be so close that you could go in and out of the landmark early before the crowds get there.  For example, in Paris, you might choose to be near the Eiffel Tower if that's something that interests you.  If you want to be away from the crowds and landmarks, maybe staying in other parts of the city are better for you or even in the outskirt neighborhoods.  Also figure out though what the transportation is like in certain areas before booking.  For example, you don't want to be out in some suburb of Paris where the Metro doesn't reach, as it will make it harder to get around.  So take a look at metro and bus lines before booking so you still stay connected and able to get around in easily in your destination.  Determine what you want and then book accordingly.