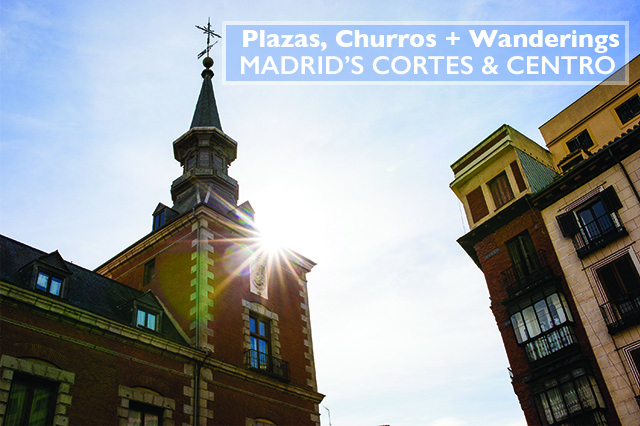 We only had 1 overnight in Madrid at the lovely ME Madrid but since it was so centrally located, we still got to see a lot of the city.  Madrid had a very different feel than Barcelona, it's more ornate in a way, more traditional.  I find it hard to put Madrid into words, but being there, it feels so centrally Spanish and that's about as close as I can get.  We spent our first day in the city wandering the area near our hotel, starting first in the Cortes area, then wandering toward the highlights of the Centro neighborhood like Plaza Mayor and Mercado San Miguel.  We wandered, had sangria and tapas at a small cafe, wandered some more, enjoyed plaza after plaza with colorful buildings around every corner.  We stopped at the famed Chocolatería San Ginés for a café con leche and their famous churros con chocolate.  For our first experience with the true Spanish churro, we were in love immediately!  So much denser than the American churro covered in cinnamon and sugar, the Spanish version is not coated with any sweeteners, but left to dip in rich dark chocolate.  The experience would not be our last in Spain!
We finished off our indulgent afternoon and wandered the back alleyways heading toward our hotel for a siesta and to watch the sunset over the Plaza Santa Ana from our room.  For our first day in Madrid, we couldn't complain!
Don't Miss in Madrid's Cortes and Centro Neighborhoods:
-Mercado San Miguel
-Plaza Mayor 
-Plaza Santa Ana – Eat at Lateral for great Spanish tapas or Restaurante O Cacho do Jose for great Italian.
-Chocolatería San Ginés – Make sure to get a coffee or something to drink here too… the chocolate is really rich!
Traveling to Spain?
See all of my posts on the country!
And here are all my recs for where to stay!