As Nick and I prepare for our next adventure through Asia next week, I've found myself thinking a lot about my return to Asia for this trip. The last time I was on the continent was three and a half years ago on my last trip to South Korea for work. But even more thought consuming is that it's been twenty-one years since my last trip to India, as a kid to visit my aunt who was living there at the time. The thing is, my memories of India are so steady in my mind and it was a country that I remember vividly from our time there, even though it was so many years ago and I was only 7 years old.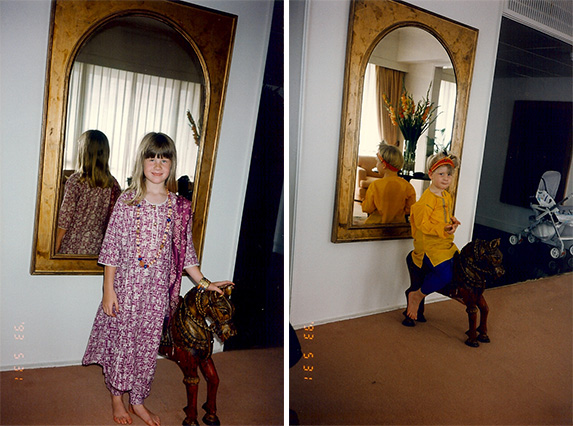 My brother and I in Mumbai.
Truth be told, I'm a bit nervous about our upcoming trip, not that I'm scared or anxious for the unknown, but more in the sense that I'm interested in how I will feel this trip. I'm interested in seeing if my memories match up to our experience now.
This trip will be very different than the majority of our others and is a branching-out in terms of travel for us. We're visiting countries that are the total opposite of many of the Western countries we've seen and even with other trips that we went outside of Europe like Morocco, I was still much more familiar with what to expect there because of my childhood in the Middle East. India, Thailand, Cambodia, these places are pretty foreign to me. I don't know the customs, the cultures, the geography as much as I know other places and while I've been trying to read and educate myself as much as I can, much of it is just experiencing the place, just being there.
My mom, brother and I in New Delhi.
So I guess I'm giving myself this goal for our trip: just be present. I want to really be present and indulge in the experience, I want to take in the colors, the aromas, the history. I want to look at this trip differently than most of our others because I want to really experience this adventure, because that's what it's going to be, an adventure.