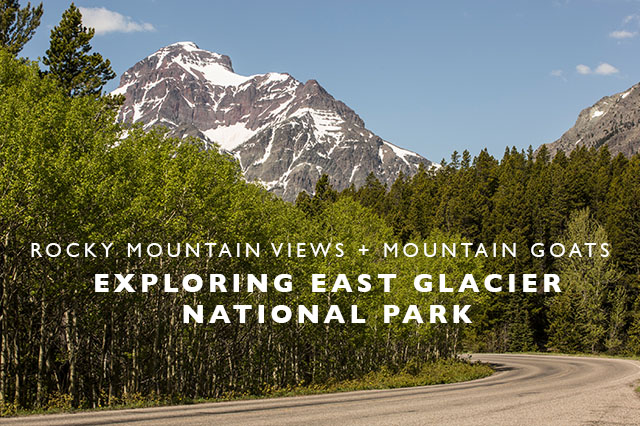 After hitting the end of the Going to the Sun road on the Western side of Glacier National Park, we headed back out of the park, back to Highway 2 which loops you around to the other side of the park on a state highway.  Not sure of what the other side would look like, exploring East Glacier National Park ended up being our favorite area of the park.  The Rocky Mountains are on display here, with their jagged snow covered peaks as well as countless lakes and vistas.
We started with the short drive from the East entrance of the park to Two Medicine, which is a lake and campground area that's only about 25 minutes from the entrance of Glacier National Park on the East side.  It was a beautiful spot but definitely one of the busiest areas we encountered since it's so close to the entrance and easy to get to.  But it was also where we saw mountain goats that completely made our day, so it was well worth a few more cars to see that!
After that, we headed up on the drive toward St. Mary.  We actually had no idea where it would take us and just went with it, which I'm so glad we did!  This drive is stunning.  It takes you up high in the mountains with vistas looking out over the Rockies and the lakes below.  Multiple times it felt like we were transported to Switzerland instead of being in Montana, and was by far my favorite part of Glacier National Park.  If you follow that road to the end, it spits you out at a Northern exit of the park, which you can then take the small highways back down around and head South toward the entrance to get back on Highway 2.
-Have $30 prepared to pay the entry fee to the park for a single vehicle for a week.
-Be prepared to drive a lot.
-Stop in the pull outs, don't pull over on the side of the road.
-Have your camera ready as amazing spots just appear suddenly.
-Bring a paper map as there isn't much cell service in the park and we found that the signage isn't great to help you figure out where to go.