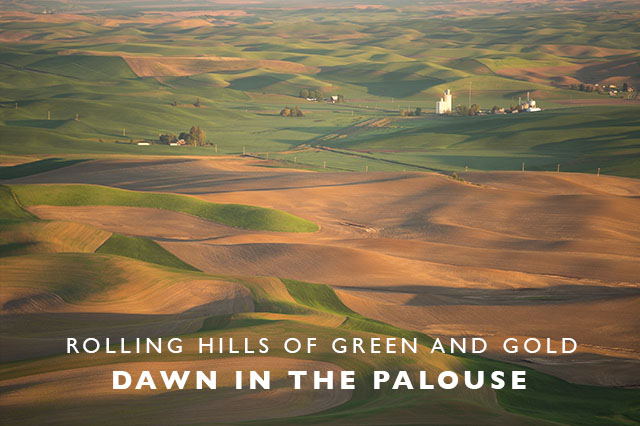 The Palouse, as it's called, in Eastern Washington State was my #1 spot to see on this trip and I walked away from the trip with this stop still being my favorite of the whole trip.  I saw a photo of the Palouse years ago and have wanted to visit for a long time.  The area of my neighboring state is a dream: rolling hills covered in green and gold that truly look like a painting.  Seamlessly weaving into each other, the hills create a landscape that doesn't even look real.
We wanted to see the Palouse from Steptoe Butte at surnise, a vantage point in the area where you can see all around for miles as the rolling hills spread far and wide.  So we left our hotel in Moscow super early (like 3am early) to get out to the area as the sun was rising, stopping for some early Dawn moments on the tiny curvy country roads that you take to get there.  We stopped at one spot on a dirt road out in the middle of no where in the Palouse, rolling hills around us, a lone Cyprus tree in front of us and I swear, it felt like I was transported to Tuscany.
After almost getting our car stuck on a muddy patch of that dirt road, we made our way up Steptoe Butte as the sun was rising, taking in the views of the landscape around us.  It was breathtakingly beautiful and a great reminder that you don't need to go far from where you live to see incredible landscapes.  This spot will be one I go back to in the future, being only 5 and a half hours from Portland.  It was a memorable one and I'm so glad we started our trip off with such beauty, a place that truly is a remarkable landscape and looked more like an oil painting than real life.