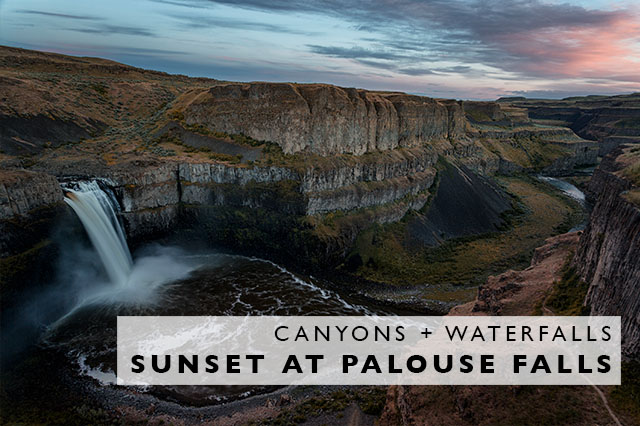 Nick and I have both had spots in Eastern Washington State on our travel lists forever, his has been Palouse Falls, mine was the actual Palouse area toward the border of Idaho.  And while we've wanted to get there for years, it's a little far for us on a typical weekend, so we've always pushed it off.  This trip though, we made a priority to go to both our stops on our way East to Yellowstone.  The first stop on our trip was a gorgeous evening at Palouse Falls.
About an hour or so outside of Kennewick, Washington, where we were staying, this amazing waterfall and canyon is a beauty.  While Nick loves waterfalls and photographed this one as much as he could that evening, I was actually more enthralled with the canyon which the water cascaded through here.  With an almost prehistoric feel, this spot was gorgeous as we watched the sun set and the twilight fall.
Tips for Visiting Palouse Falls
-You'll need cash to pay the state park fee.
-Try to get here a bit before the actual sunset as there were a lot of photographers and you'll want to get a good spot.
-Wear bug spray – there were a lot of mosquitos flying around.
-Give yourself time for the hour drive from Kennewick, most of it is on small curvy country roads.