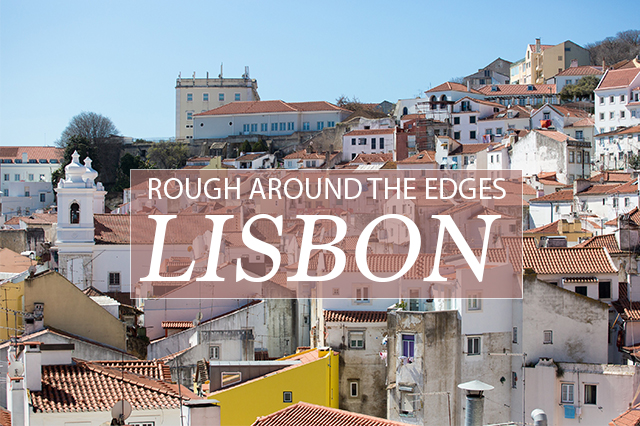 I've got to be honest, Lisbon kind of shocked me.  It wasn't at all what I was expecting and at first as we wandered the city (albeit pretty tired from our early morning flight from Spain), but we were kind of taken aback.  At first glance Lisbon seems to be falling apart at the seams, buildings that look like they are barely standing, graffiti everywhere, cobblestone streets and sidewalks that we were cursing with each step and hills beyond belief… oh those damn hills.  Our first impression of the seaside city was that it was a bit like we expect Cuba to be…bright colored buildings falling apart in front of your eyes, complete with a totally retro vibe and palm trees abounding.  But as we explored more, I realized how much we had sold the city short upon first impression.
Lisbon is an old city and yes, there are spots that are incredibly rough around the edges, like your older edgy cousin with too many tattoos and a little much time spent partying, with the age starting to show a little too early.  But the city certainly holds it own and as you explore more, you realize that it wears the edginess as a vibe, as an identity.  Yes, it's tattered and torn, it's old and withered, but its colors are still shining bright and its personality is youthful and vibrant.
We spent two days exploring the city and left with an entirely different perspective of if than when we arrived. As we wandered her streets, Nick and I kept saying how much the city was growing on us and it seemed with each streetcar that passed, we loved Lisbon more and more.
Traveling to Portugal?
See all of my posts on the country!