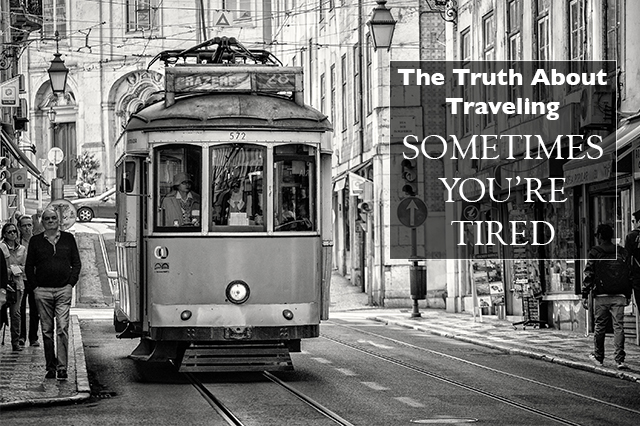 When we had Lisbon scheduled on our itinerary for this trip, I got a ton of suggestions to take the day trip from Lisbon to Sintra.  I did the research, checked it out and truly had every intention of going, but in the end, we didn't end going and here's why: we were exhausted.
I know as a travel blogger I'm supposed to want to see everything, to power through the tiredness and just go, but the truth is, as I get older and as I travel more, I'm stating to realize more and more that that's not the kind of traveler I want to be.  I don't want to drag myself somewhere just because every guide book and travel blogger says I should if all I want to do is curl up in the hotel room bed for a 2 hour siesta on my last day of vacation.  And the thing is, that's totally ok.  I feel like a lot of times all I read about is how we should seize every opportunity, power through the jet lag and the exhaustion, because seeing a place even if you're drop dead tired is still worth seeing it.  I beg to differ…I want to really experience the places I visit, I want to take them in emotionally, I want to really see them and personally I can't do that when I'm exhausted.
I'm totally that person that loves to go to bed at 8pm and wake up at 7am.  I need a lot of sleep and as I get older, I'm realizing more and more that while traveling, I am just not willing to sacrifice that to add another place to the itinerary.  And so my friends, I'm here to tell you that traveling is exhausting and sometimes, as much as you might want to see another place, sometimes you're just tired and need to use your vacation to actually rest.
I will say that we loved our time in Portugal and I know we'll be back at some point in the future, so not to worry Sintra, you'll be on the itinerary the next time around, but this time, that 2 hour siesta and more time in Lisbon was just what the doctor ordered.