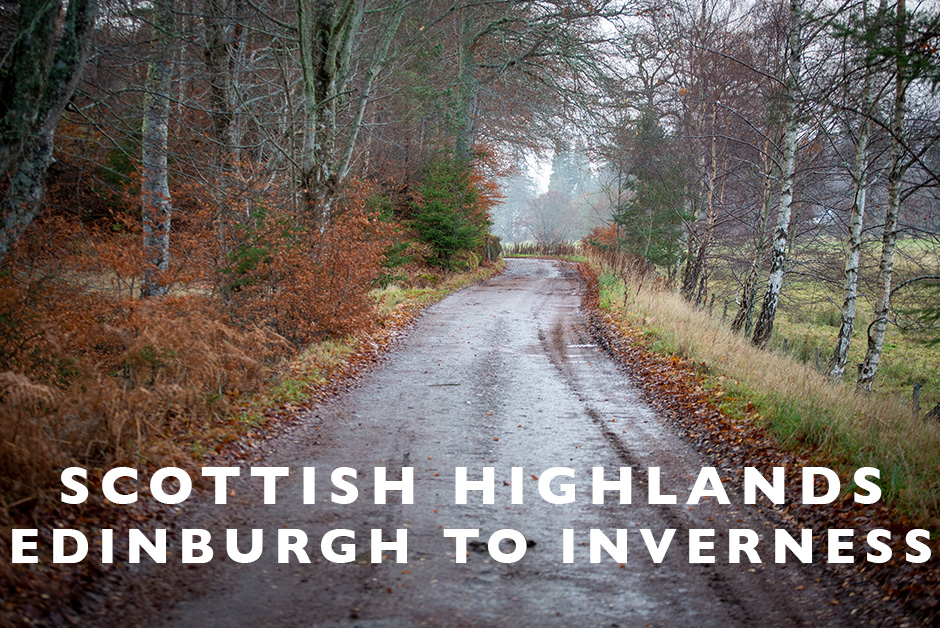 Our drive through the Scottish highlands back at the end of November was one of the most scenic drives we've done to date in our travels and I hold firm to the notion that Scotland truly is one of the most beautiful places in the world.  The Highlands were our destination of choice for this trip and after previously falling in love with the coastal drives of Scotland, we ventured deep into the Highlands on this trip, a place we've been wanting to explore for a long time.
Starting our trip in London for a few days, we jumped on the train and headed North to Edinburgh for a couple days in one of our favorite UK cities.  Then, renting a car, we headed North to Inverness.  This first day of driving was mostly on the highway and was probably our least scenic of the trip, but beautiful nonetheless.  Heading up to Inverness, a city famous for so many things like its proximity to Loch Ness (where the famous Loch Ness monster is said to survive) as well as the horrible but historic bloody Battlefield of Culloden (made more famous perhaps by its part in The Outlander tv series and books), the drive itself is fairly easy from Edinburgh.  We stopped at Loch an Eilein for a quick visit on the way, but other than that, spent our morning driving North and finally happening upon the town of Inverness.
Upon first glance, it might not seem like much but once you start exploring, it's actually a really lovely Scottish destination.  We wandered around the town all afternoon, taking in a pub lunch, a wander along the river that runs through the town and climbed to the top of the Inverness Castle for views of the surrounding area.  We read the history of Inverness as we wandered and it really is so surreal in places like this to contemplate the long and often very sad history in places like Inverness.  Overall, I really enjoyed Inverness and I'm glad we made it our first stop along our drive through the Scottish Highlands!
Traveling to Scotland?
See all of my posts on the country!