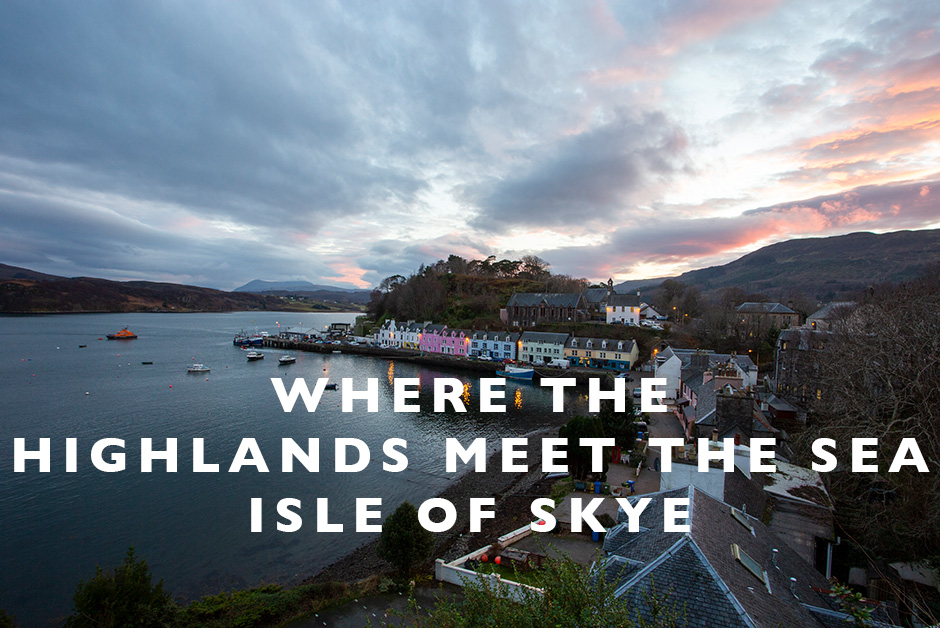 To say I've been waiting a long time to visit the Isle of Skye would be an understatement.  I've had this destination in Scotland on my travel list for years and when we were planning our Highlands road trip, I knew we had to make the trek over to the Isle of Skye to see it first hand.  The landscapes in this part of Scotland are truly unrivaled and it is breathtakingly beautiful.  I'm sure seeing this part of the country in the Spring or the Summer would be spectacular as well but we were lucky with blue sky and no rain for our time on Skye and based in Portree for the night was a lovely and wonderful first dip into what Skye has to offer.
First off, our day started off with a bit of a hiccup when about an hour into our drive to Skye from Inverness, we got a flat tire on our rental car.  After a tow to a local town and a new tire, we got back on the road about 2 hours behind schedule.  Due to that and the treacherous and tense drive to get to the Isle of Skye, once we arrived in Portree mid afternoon we were exhausted and ready to be out of the car.  So while we didn't get to venture out and explore more of the Isle of Skye like we had hoped, we instead got to explore more of Portree and the surrounding areas which we really enjoyed.  This gorgeous little town is truly one to see and is worth the drive.
The Isle of Skye is not easy to get to and after tiny little one lane roads and windy sections of highway through mountains and coastal drives, arriving in Portree is a welcome respite.  The little town filled with rainbow colored buildings and coastal views is beyond pretty.  And while we didn't get to explore as much as we would have liked, I'm sure we'll return to Skye someday to see more of its breathtaking beauty in this remote part of the world.
And for your trip to Scotland, here's where I would recommend you stay.
Traveling to Scotland?
See all of my posts on the country!