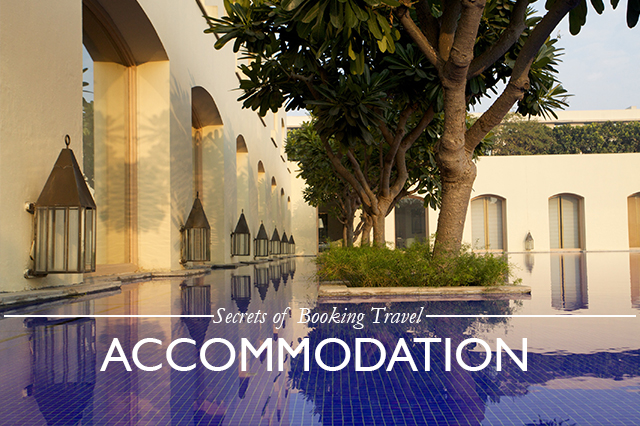 I get a lot of questions about how we book travel, the tips and tricks we employ to get good deals and make all the necessary arrangements.  All this week I'll be revealing my process for booking travel from start to finish, focusing on a different part of the process each day.  So stay tuned every day this week for my secrets to booking travel!
Booking accommodation is truly one of my favorite parts of planning a trip.  I love finding cool, unique hotels or apartments in the places we visit and finding spots that will have character or amazing views that I know will make our trip even better, is such a fun part of the planning process!
1.  Start by making a shortlist of options.
Once we know where we're headed, I head to websites like Tablet Hotels and Splendia to search for cool boutique hotels in each spot.  I like these websites because they narrow the search and don't even include big chains, only the smaller boutiques with great design, which is what I personally look for in hotels when I travel.  If I don't find anything I like on those sites or if I'm looking for something different, like an apartment, I head to AirBnB.  After all my research, I make a shortlist of all the best options and each of their prices.
2.  Research each property and look at reviews for each.
Before booking, I always research each property that's on my shortlist and look at reviews on sites like TripAdvisor and Hotels.com for each one.  In the past, I've been dead set on one particular hotel until I look at the reviews and it's totally changed my mind.  Reviews are a really powerful thing because they can make or break your stay, but so important to get an honest look at what the property is really like or how it is run.
3.  Book using a site that offers a loyalty program.
When I get to booking the property I've chosen, make sure to book it using some sort of loyalty program so you get an extra reward out of your booking.  I prefer hotels.com to make most of my hotel bookings because their program is great (when you stay 10 nights, you get one free, which adds up really quickly.)  Whatever site you prefer, pick one that will reward you for booking with them.
4.  Email the general manager or concierge before your stay.
One of best ways to make your stay even better at your destination is making sure you get a great room.  Whenever I book accommodation, particularly at a hotel, I always immediately email the general manager or concierge with my reservation number, mention that I'm a travel blogger and will be reviewing the hotel and ask for any help in regards to a great room.  More often than not, they will help you out, so it doesn't ever hurt to ask.  That way you can make sure you have an extra special stay.  (This also works even if you're not a travel blogger, mention you're celebrating something and that will help move you up the list!)
5.  Confirm your booking/upgrade a week prior to travel.
If you book through a website like hotels.com, there is no need to confirm your arrangements, but I always go through and print off all confirmations a week or so before I travel and take all that information with me, just in case you get there and they can't find your reservation.  I also will check back in with the general manager or concierge that I emailed at booking and confirm arrangements with them as well a week or so prior.  This is also a good time to confirm airport pickups if you need them.