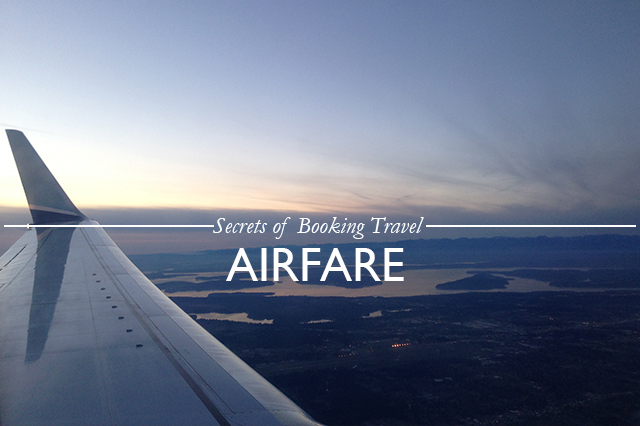 I get a lot of questions about how we book travel, the tips and tricks we employ to get good deals and make all the necessary arrangements.  All this week I'll be revealing my process for booking travel from start to finish, focusing on a different part of the process each day.  So stay tuned every day this week for my secrets to booking travel!
Airfare is one of those things that seems to allude most people – they do a search on a travel site like Expedia and just book the first thing that comes up without doing any further research.  The trick to getting a great deal on airfare is knowing how much you should be paying and that takes research and time to understand how airfares work.  I've gotten some pretty amazing airfare deals in my years of travel and the truth is, it really is just all about knowing where to look into order to book the best airfare for your trip and getting the best deal out there.
1.  Don't book the first airfare you see… unless it's incredible.
One mistake a lot of people make is that they decide they are going to book a trip and search on sites like Expedia and Orbitz and just book the cheapest option that comes up.  The problem with these sites is that they don't take in to account a lot of the budget airlines out there (like Norwegian when flying from the US to Europe) or take into consideration the best airports for you to fly through.  They just calculate the cheapest and most time efficient options on the major airlines, but that leaves a lot of options out.  Don't ever book the first option you see, unless it's super cheap and you know it's an incredible deal – then snag it as fast as you can.  But the majority of the time, doing more research and checking out multiple airports will offer you a better deal.
2.  Follow travel blogs for deal alerts.
I follow a number of deal alert Twitter accounts like The Flight Deal and blogs like The Points Guy that offer suggestions for cheaper carriers as well as alerts when major deals or sales are happening on airlines.  I also follow airline Twitter accounts as they often offer promotions on there and keep a general eye out for sales or for new airlines coming into the game.  I learned about Norwegian Air's super cheap flights to Europe from the US from The Points Guy and have booked with them twice, for super cheap fares… I'm talking like $250 one way from London Gatwick to LAX which is pretty incredible.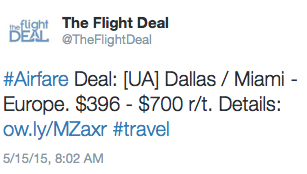 3.  Look at alternative airports.
One of the other things most people do is only look at one airport option to fly into or out of.  Remember that most major cities have multiple airports, and many times, other airports will be cheaper to fly into or out of.  Don't search for airport codes like LAX or JFK, instead search in terms of all of LA surrounding area or New York City which will give you options for Newark, JFK and La Guardia, in the end giving you the cheapest option out of all the airports nearby.
4.  Use Points or Miles.
One of the best ways to save massive amounts on airfare is to use points or miles.  I'm a big fan of the Chase Sapphire card for this as well the AAdvantage MasterCard to rack up points to use on airfare.  But beware of airlines like BA that charge super high fuel surcharges, and stick with airlines that allow you to book using miles and pay only a small fee.
5.  Book ahead.  
I know that you can get amazing deals if you wait until the last minute sometimes, but that also requires you putting faith in something that might not happen.  Booking ahead is a sure way to be able to get the best deal out there.  I like to watch airfares for my destination for a couple weeks prior to booking, that way you'll know what the lows and highs are as they fluctuate.  I recommend booking 4-6 months in advance to lock in great prices.