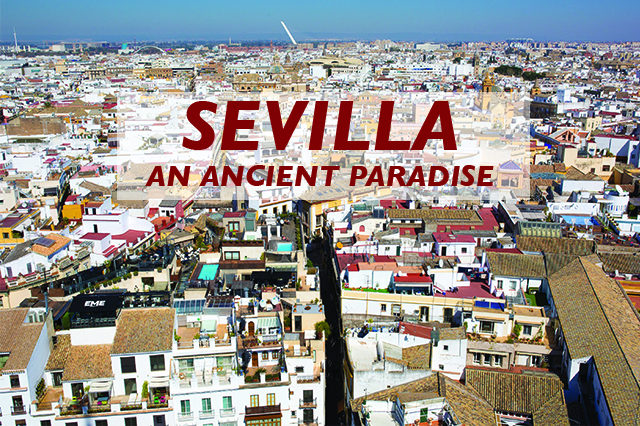 Ahh Sevilla… we're finally talking about this incredible city that I've been waiting to share with you! You know those moments somewhere in a foreign place when you completely fall in love with your surroundings?  When you are immediately picturing yourself living there, wandering around with a basket on your arm, collecting fruit from the local market and enjoying long dinners at your local bodega?  Yea, that was Sevilla for me.
I can't tell you how much charm and magic exists in this ancient city, from the windy cobblestone streets to the white and yellow buildings surrounding by orange trees bursting with fruit.  From the Moorish influence to the ornate balconies, from the incredible food and bustling cafes at every corner to the hours spent drinking sangria and cafe con leche.  Sevilla is one of those places in the world that seems way too good to be true.  The ancient buildings should be falling apart, the white washed walls should be dirty…but they're not.  The orange trees should only show a couple pieces of fruit, but they are full to the brim.  The sky shouldn't be that shade of blue, but it is.  The people shouldn't be so nice and cheerful, but they are.  Sevilla is in essence an ancient paradise, a place that just exudes a calmness, a serenity, a very specific kind of charm.  When I used to imagine what it must be like to live in a small town on the Mediterranean, I imagined exactly what it felt like in Sevilla and it's not even on the Med.
Some places just stick with us; Sevilla will stick with me for a long time.  As we wandered the streets Nick and I spoke many times about someday having a little apartment here on a windy cobblestone street, with an iron balcony overlooking the surrounding area.  We could wake up late, wander to the market, ride a Vespa through the tiny streets, spend our evenings drinking sangria and eating tapas for hours.  It's a place that seems like the perfect place to escape the craziness of normal life, the perfect city to long for when you need a bit of sunshine and rest.  And I know in the years to come, it will definitely become that place for us.  I can't wait to share more of this magical city with you in the days to come! We fell hard for Sevilla and it will always be an ancient paradise we will long to escape to.
Traveling to Spain?
See all of my posts on the country!
And here are all my recs for where to stay!