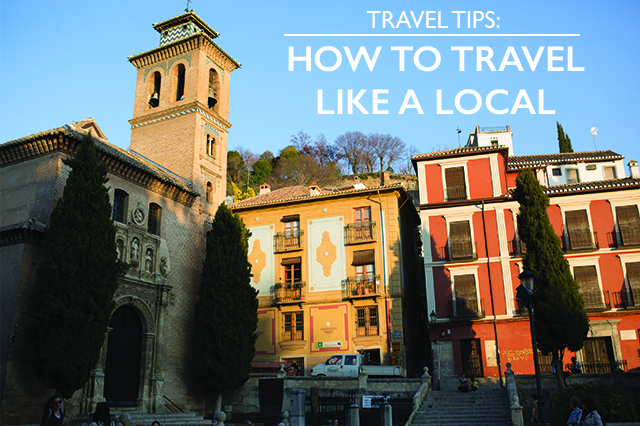 I think one of the things that sets Nick and I apart from other tourists when we travel is that we don't base our trip around what the guide books say we should do.  We make a list of things we want to see and do, but if we don't get to all of them, it's not a big deal.  Travel for us is much more about seeing a place like the locals see it, experiencing a city like its residents would and really being in the moment while there.  When you start to travel like a local, you'll experience a place so much more and will leave with a new found understanding of the difference between being a tourist and a traveler.  There are a lot of easy ways to do this, so the next time you're traveling, try these tips to travel like a local and you'll enjoy it so much more!
Keep a list of local favorites.
When we know we are headed somewhere in the year to come, I start saving spots I see on people's Instagrams accounts or when I read a blog post from a local.  I keep them in a folder on my computer and when the trip gets closer, I go back and search through, finding the ones that we really want to try.  I've found some of the best local restaurants (like Can Paixano (La Xampanyeria) in Barcelona or local off the beaten track spots (like sunrise at Lanikai Beach on Oahu) by doing this.
Don't miss the outer neighborhoods.
One of the things a lot of travelers do is stay right in the tourist zones in cities.  And yes, sometimes that makes things easier but staying in an outer reach neighborhood like we did in Amsterdam or in an apartment like we did in Paris allows you to really see the city where the locals live.  You will have better local restaurants nearby and a more genuine feeling.
Use public transportation.
When we travel around a city, we do as the locals do, at least we try to.  That goes for public transportation too.  If you're in New York City, use the subway or hail a cab but if you're in India, grab a tuk tuk.  Usually using the local form of transportation will be quicker and cheaper than what most tourists are using.
Ask a local's advice.
Some of our very best memories of traveling, whether they be restaurants or experiences, come from local's advice.  Like when our guide in Iceland pulled off on a side road and took us to an incredible stone quarry off the beaten path or our hotel reception's recommendation for dinner in Barcelona.  Local's are always willing to share their home with visitors, all you have to do is ask!