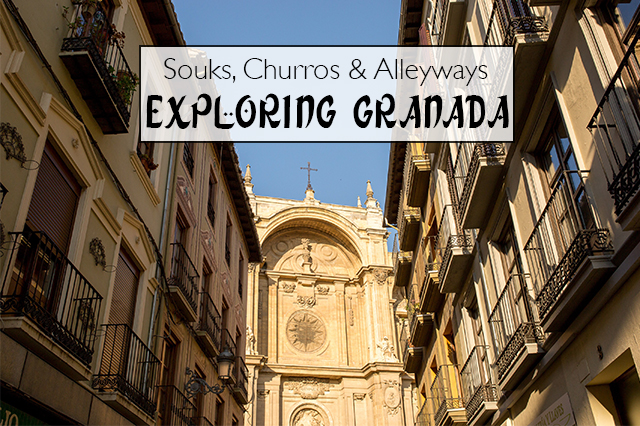 Granada surprised me.  Whereas the rest of our stops in Spain (Barcelona, Madrid and Sevilla) felt very European, Granada felt very Middle Eastern in nature.  From the food to the architecture to the languages spoken on the streets, Granada is very much in close relation to it's near neighbors, Morocco and Northern Africa.  Being so far South, you can definitely see the Moorish influence here and I thoroughly enjoyed this unique Spanish/Moorish combination.  We spent much of our time in Granada just wandering, buying lanterns and Moroccan tile and silver jewelry at the many souk-like shops that scatter the streets of the city.  We explored the alleyways and steep steps of the ancient whitewashed neighborhood of the Albaicin and tasted some of the best churros of our entire trip at a cafe in the Plaza Bib-Rambla.  We wandered down empty streets, took in the buildings that were in much rougher shape than the other spots in Spain we visited and meandered back to our hotel after our dinner of churros and chocolate (it was vacation after all!), finishing off our time in Granada with the sun setting over the Albaicin and the Alhambra high on the hill from our balcony.  As the light fell on our time in Granada and our trip through Spain, we knew that it wasn't goodbye, but an invitation to return again and see more of this insanely amazing country.
Don't Miss while in Granada:
-Take the chance to enjoy lots of Arab food while here!  We feasted on Chicken Bastilla (a favorite Moroccan dish) and schwarmas (an Arab staple that I grew up on).
-Don't miss a visit to the Alhambra!
-Set aside time to just wander.
Traveling to Spain?
See all of my posts on the country!