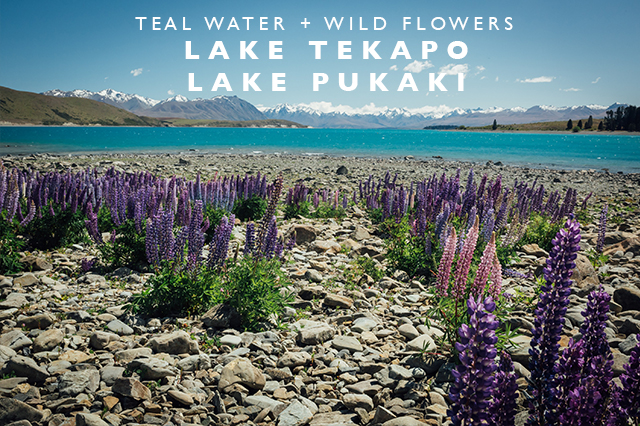 If I had to pick my ultimate favorite spot while in New Zealand, it would definitely be these two incredible lakes.  Lake Tekapo was our first true stop after leaving Christchurch, and to be honest, we were a little disappointed with the first few hours of our drive as it looked a lot like farmland we have here in Oregon.  About two minutes before we arrived at Lake Tekapo I was getting anxious and tired of driving, and I said to Nick (who was navigating while I drove), "Where is it??? We have to be getting close by now!"  It was literally in that second before he could respond, we came upon a crest that overlooked the tealest water I have ever seen in my life.  And when I say teal, I'm not talking like a light blue or a murky green, the water at Lake Tekapo and Lake Pukaki is literally bright teal.  Coming up on the lake really looked like someone was photoshopping the scene in front of us and it was a really incredible moment from the trip.
Now both of these lakes are famous landmarks in New Zealand so be ready for lots of tourists.  We opted to stop at Lake Tekapo at a small, out of the way pull off to take some photos where no one was around until a tourist couple started pestering Nick to take photos of them.  After a lovely quiet fifteen minutes at this spot, which we were surrounded by wild lupins in pinks, purples and yellows against the teal water, we moved over to the famous Church of the Good Shepard.  Here we waited a while for Nick to try and get a shot of the church without a million people in the frame, and when a huge tour bus arrived and flooded the area we decided to leave.  If I went back, I would stay in this area for the night and go early morning or evening when no one else is there because it was really that beautiful.
Next, up the road about 20-30 minutes is Lake Pukaki, which again is a surreal teal color but way more massive.  This lake seemed to stretch on for miles and with the picturesque Mt. Cook in the background (which was somewhat hidden in the clouds for us), Lake Pukaki is also an incredible scenic spot on the South Island.
Both Lake Tekapo and Lake Pukaki are a couple of those places on this Earth when you really wonder, am I still on Earth?  It's places like that that I love to explore because it really gives you a sense of how beautiful our world is and how many places there are to see that are so different than we're used to.  So if you're on the South Island of New Zealand, do not miss these two incredibly scenic lakes!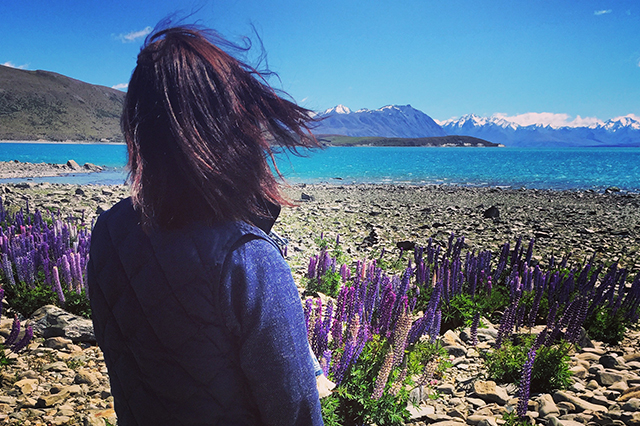 Traveling to New Zealand?
See all of my posts on the country here!