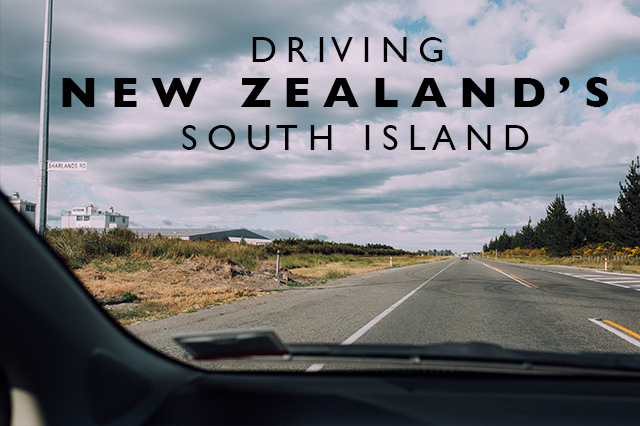 After leaving Christchurch early in the morning on our second day in New Zealand, we were really excited to kick off our day long drive from Christchurch to Queenstown with multiple stops along the way.  When we booked this trip to New Zealand, we knew we wanted to see more than just the cities and enjoy more of the scenic areas that the country is so famous for.  We opted to rent a car and drive it ourselves and I'm so glad we did.  Being able to stop anywhere along the side of the road was a really great adventure.  Though I will say, the driving wasn't always easy and we were exhausted upon arriving in Queenstown that night, but it's a memory we'll always have and we saw a lot of the South Island in the process.
We stopped at Lake Tekapo, Lake Pukaki, Wanaka and a few other spots along the way, which I have posts coming on in the coming days, but honestly, a lot of the beauty of New Zealand is in the random stops along an empty highway, or the views out over an insane valley in between huge mountains or a roaring river in the middle of nowhere.  So if you're looking at driving New Zealand's South Island, just know that it's full of incredible sights, amazing adventures and some really curvy roads!
Tips for Driving New Zealand's South Island
-Be prepared for all sorts of driving conditions including rain and wind like you've never experienced.  And I say that as a Pacific NW'er and we get a lot of rain and wind.  The wind here was insane, I was literally steering into it just to stay straight on the road in many areas.
-Prepare yourself to drive on the wrong side of the road and the wrong side of the car (if you're American).  Not only are the driving conditions intense in New Zealand, they also follow the UK style of cars and roads, so get used to staying left!
-Map out a route before you leave so you know about how far everything is and then add extra time to that.  Our drive ended up taking way longer than we expected because we stopped so much at beautiful spots and because the roads were curvy and narrow which made us go slower.
Traveling to New Zealand?
See all of my posts on New Zealand!