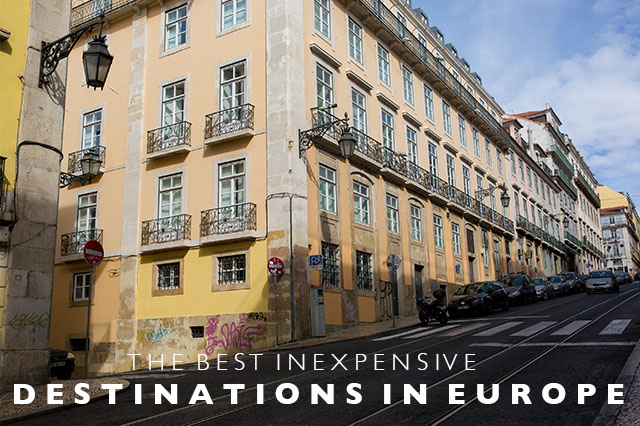 Europe has always been a hot spot for tourists.  It's got everything: amazing history, wonderful architecture, charm everywhere you look and great food.  But it can also be pretty expensive, especially in larger cities like London and Paris.  And don't even get me started on how expensive Scandinavia is.  So if you're looking to head to Europe but don't want to spend as much money as you will in the more expensive spots, here are the best inexpensive destinations in Europe for you to choose from!
Portugal
You'll be amazed at the cost of things in Portugal!  Even in its famous city Lisbon, things were priced really low compared to the other European hubs.  You'll get a lot of bang for your buck in this seaside city.  And the great thing here is that most of the attractions are free, so you can just wander and take in this edgy city for all it has to offer as well as Lisbon being incredibly charming with cobblestone streets and old buildings just begging to photographed.
Spain
I was blown away by how cheap Spain was compared to it's neighbor up North, France.  A huge dinner of tapas and sangria for 15 euros, ok, I'll take that!  You can eat well and enjoy a great trip in Spain for a lot less than other European hot spots.  Particularly as you get out of the main hubs like Barcelona and Madrid, prices really start to go down.
Ireland
While Dublin is still a lot less expensive than its neighbor in the UK, London, where Ireland really shines in price is when you get out of the cities.  The little towns in Ireland will offer so much and won't break the bank.  You'll win in culture and your wallet!
Italy
While the larger cities in Italy like Rome and Milan still command a fairly high price point, when you get into small town Italy, the pricing will noticeably go down.  Head to Verona or the little towns scattered throughout Italy and you'll notice a pretty good price point.
Morocco
Even though it's not in Europe, Morocco is a popular destination from Europe since it's so close.  Here you'll find prices really are inexpensive and you can haggle for even lower ones.  You'll get lots of bang for your buck in Morocco and you'll walk away with a unique experience too.