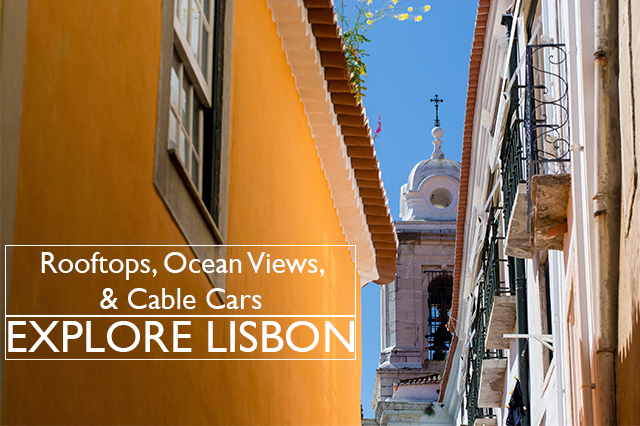 After my introduction to our time in Lisbon the other day, I got to thinking more about our time in Portugal.  We really did end up leaving with a totally different view of the seaside city than when we had arrived and all in all, really enjoyed Lisbon.  The colorful buildings, the red rooftops, the blue skies and the old world charm of the city really is lovely and with less crowds than other spots in Europe, Lisbon really is a great spot to see and experience.
We spent our time in Lisbon just wandering, with no real itinerary in mind.  Being the last stop on our trip, we were pretty worn out and two days of wandering was just what we needed.  We wandered the hilly cobblestone streets of the Alfama, took in the the gorgeous buildings in the Chiado neighborhood and did some local shopping in Baixa.  We stopped to take in incredible ocean views, looking over red rooftops to the sea, and admiring the ancient but charming cable cars.  The food was great, the views spectacular and the people lovely.
Don't Miss in Lisbon
-Pizza at La Puttana – We were craving pizza on our last day and asked our hotel front desk for advice.  They recommended La Puttana close to the LX Boutique Hotel and it was incredible!
-Sunset at the Abril Bridge – If you want to venture to the Abril Bridge from Lisbon, know it's a trek on foot.  We walked and it took about 45 minutes, then you have to cut through the underground tunnels to get across the train tracks and the busy road along the water.  But once you arrive, it's oh so worth it.  Also, I recommend taking a cab back.  We were lucky to just be able to flag one down, but you might want to call since there weren't that many in the area near the bridge.
Traveling to Portugal?
See all of my posts on the country!