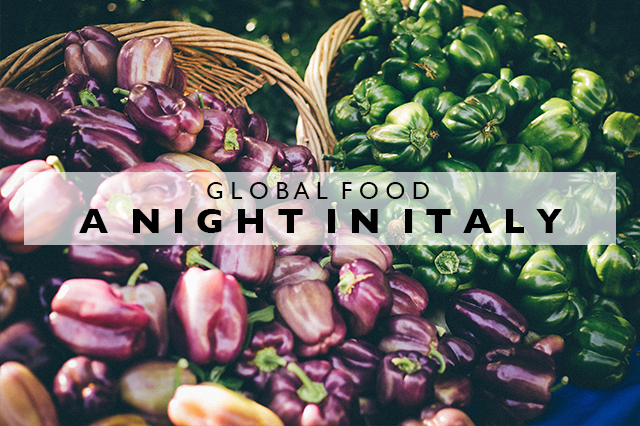 Something many Land of Marvels readers might not realize is that I love to cook.  It's always been a big passion of mine and baking, cooking, and hosting dinner parties is something that I love to do and try to do as much as my schedule permits.  Food is also such a huge part of travel and as Nick and I have ventured around the world, we've fallen in love with so many cultures through their food.  So in this new Land of Marvels series, as I learn to cook different cultural food from around the world, I'll share the process and recipes here so you can have an exotic culinary adventure yourself as well!  Welcome to Global Food: A Night in Italy!
A few weeks ago we had a gap in our travel schedule and after trying to get a group of our friends together for a while, we landed on a weekend where everyone was free.  I make homemade pasta every once in a while and was craving a good old fashioned Italian dinner.  Cooking for eight, Nick and I started our Saturday morning bright and early at the local Farmer's Market.  We wandered through the stalls, editing our menu as we went.  Loosely, I knew the first course would be burrata (but I was open to was would accompany it), the main course would be pasta (one ravioli and one fettuccine dish), and our dessert was homemade tiramisu (which I had made the night before).  We looked at all the fresh produce and decided on our final items, plus picked up a bundle of fresh lavender for the table.
After unloading our Farmer's Market haul at home, it was time to get to work.  I started on the bread: a Rosemary and Sea Salt Focaccia (see recipe below).  As that was rising, I prepped everything I would need for my pasta and started my slow-cooked red sauce for the fettuccine.  Then I moved on to the filling for my ravioli (a ricotta and shallot filling).  Throughout the day we prepped our Night in Italy, moving from one item to the next.
Finally I got to setting my table complete with our fresh bundle of lavender, a canister of olive oil and setting menus at each place so our guests would know what was to be served.  The dinner ended up being a success and we had such a lovely time, gathered around friends, eating fresh, homemade food and enjoying "la dolce vita!"
If you want to cook your own Night in Italy, take a look below at one of the recipes for the items I made for our Italian dinner at home!