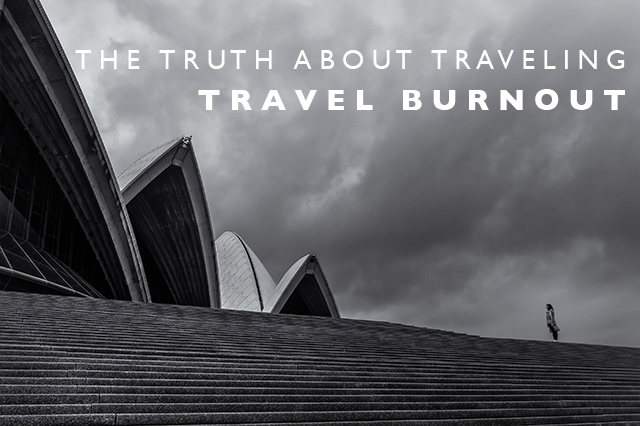 We traveled a lot last year, both because we wanted to and because certain things came up for work and life that we had to travel for.  And in all that travel and time on planes and in cars, we got burnt out.  There came a point after our trip in November to Australia, New Zealand and Bali (where so much went wrong) that we decided we needed a hiatus to recuperate.
Because while travel is incredible and life changing and amazing, it's also exhausting both physically and mentally.  It drains you of energy and when you travel like we do, where it's not really a vacation-type of travel, we then come home and plunge right back into our busy lives and it seems like you never quite get caught up.  I'm not saying I don't love it, I do.  And I'm so thankful that we've worked hard to get to this point where we can travel a lot and see amazing places around the world.  But there comes a point for every traveler when you just want to be home in your own bed for more than a few weekends at a time.
We also have a lot going on at home including moving this January, family issues, and work that never seems to slow down and so when we got home from our trip in November, we knew we needed to be home for a bit, for our own sanity.  We actually were scheduled to do a long weekend over New Years in New York and canceled it so that we could use that weekend to rest and get ourselves organized to move.
All in all, travel is worth every second.  It's worth every penny you pay and every moment you create, but it's also ok to realize that you need a break.  There is certainly such a thing as travel burnout and when you get to that point, just realize that we've all been there.  Trips that go wrong, too many nights not sleeping on planes and being jet lagged at all hours of the night.  Travel is incredibly rewarding but it also comes with a cost.  So when you experience travel burnout, just smile knowing all the amazing memories you'll have from your travels and then head home for a while, sleep in your own bed, eat good food and give yourself a break.  Travel will always be there when you're ready and that's usually sooner than you think!
And don't worry… I'm not stopping traveling anytime soon, just taking a bit of a breather, but I can't wait to share a bunch of great content in the new year and get back to traveling in February!  And after being at home for over a month, I'm already getting back into the swing of travel planning for lots of amazing trips over the course of 2016!