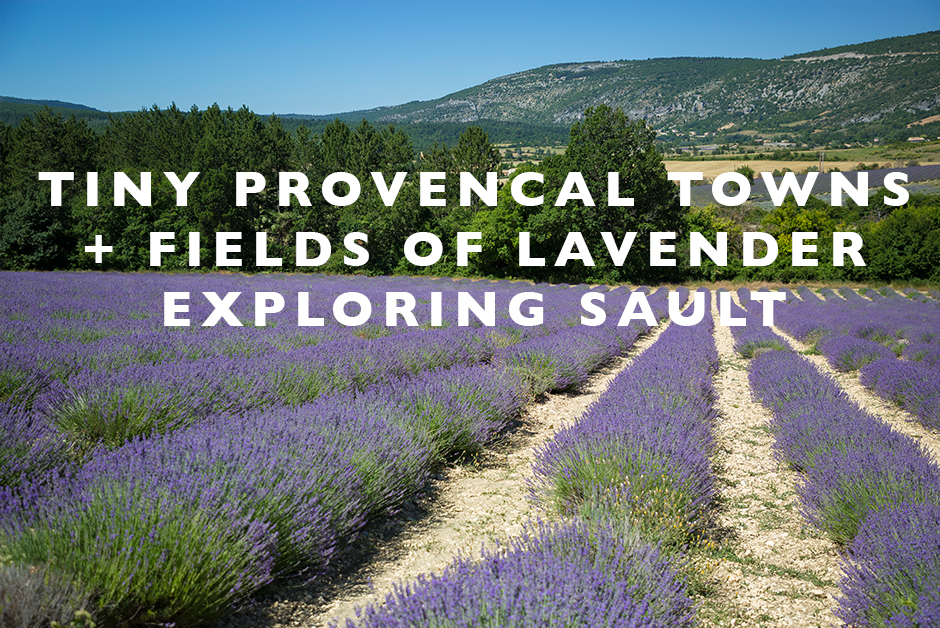 With just a short time to explore Provence, for our one true full day in the area we headed to Sault, an area I had found in my research that seemed to hold everything we were looking for in traditional Provence.  We wanted lavender fields as far as the eye could see, we wanted amazing little Provencal towns on hilltops, and we wanted little shops to wander through and brasseries to sit outside and sip Rosé.  Well, we found all of them in Sault, a tiny little hilltop town surrounded by lavender.
We started our day mid-morning, driving from our hotel near Gordes, making our way North East in Provence.  The roads were tiny and curvy, the landscapes gorgeous.  Though once we turned the corner where the whole general area of Sault begins, we stopped at a pull off from the road to look down on a whole valley of lavender.  Seriously, the fields were purple for as long as we could see and it looked completely surreal.  Then once we descended into that valley, it was field after field of purple and I could hardly contain my excitement.  We stopped at a few fields on the way to Sault and then a few more on the way back and my dream of the Provencal Summer in fields of purple lavender came true that day.
We finally made it up to the hilltop town of Sault (Sault refers to both the town and surrounding area) and spent a few hours eating in a little al fresco cafe, wandering the shops and taking in the views of the landscape around the town.  It was filled with blue shutters and cobblestone and stone buildings and basically everything you could think you'd want in traditional Provence.  We remarked multiple times that we'd love to come back and stay in one of these tiny towns for a week or two, just taking in all the area has to offer.
All in all, Sault was gorgeous and I would return in a heartbeat.  If you're in Provence, this is definitely not a stop to miss!
Headed to France?