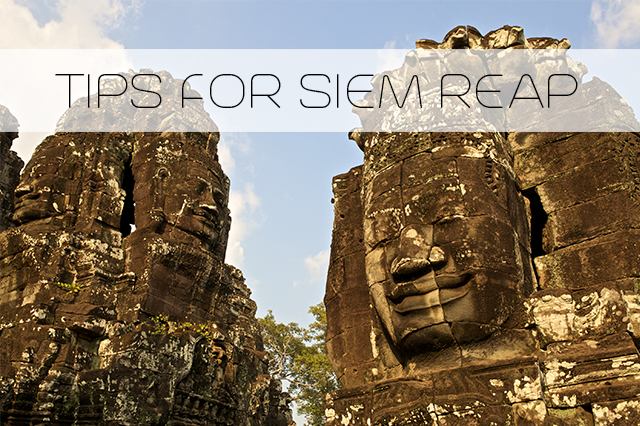 Siem Reap was a mixed bag for us. On one hand we loved seeing the temples and exploring the area.we had amazing food and the 
longer we were there, the more we liked it. But there are definitely things I wish I would have knownbefore going, so here are my tips for visiting the ancient Cambodian city.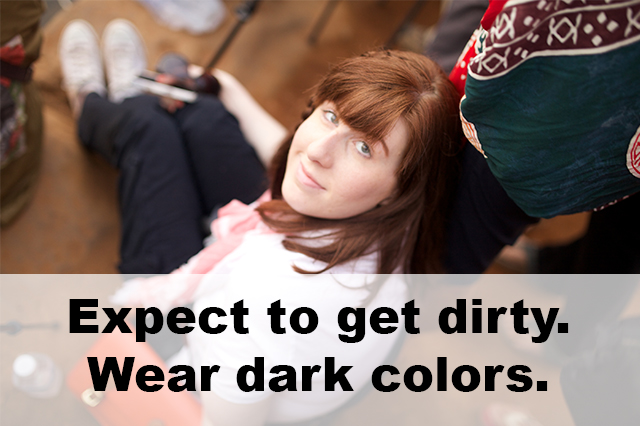 I had no idea that the area around Siem Reap is covered in a deep red dirt before we left.  I was lucky that I packed dark colors to wear, at least with pants and shorts, but a good tip to be aware of when traveling to Siem Reap and exploring the temples of Angkor Wat and surrounding areas, is that you'll get very dirty.  
My white converse shoes I wore all over were just covered in red dirt and filthy by the end of our trip.  They washed out fine when I got home, but it's something to be aware of so don't wear anything expensive or light in color.  Another tip would be to make sure and bring some sort of shoe bag to pack your shoes home so they don't get the rest of your clothes in your suitcase dirty too.  I always pack my shoes in shoe bags and it ended up really working out well for this trip particularly.
Dark pants were the best option for me (I wore cargos) as they didn't show too much of the dirt and kept my legs from the bugs and the sun, as well as protecting them from cuts and scrapes as we made our way through the temples.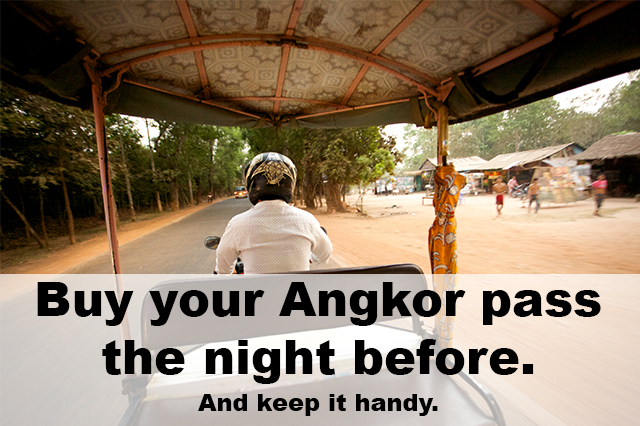 One of the nice things about how they have the ticketing set up for the temples is that you can buy your Angkor pass the evening before and take in the sunset as part of the package price.  We bought 1 day passes ($20 per person) and had our tuk tuk driver take us to buy the pass, then on to Angkor Wat to take in the sunset (after 5pm the night before your pass technically starts but they let us buy ours at 4:30 and we were in the temples before 5).  You're basically getting a 1.5 day pass for the same price which is nice.
Also, keep your pass handy as with every new temple, they'll ask to see it.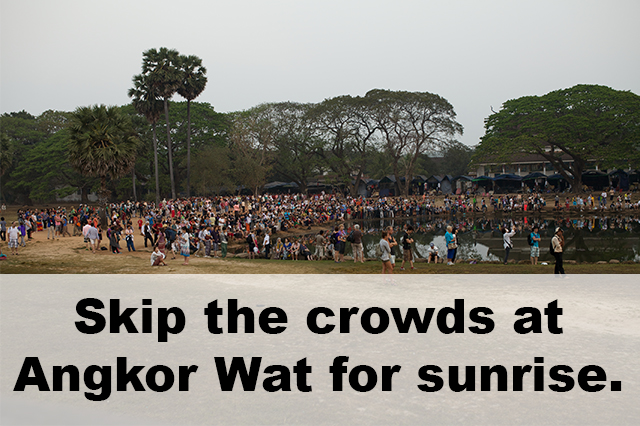 Nick had really wanted to do the sunrise at Angkor Wat as he'd seen some incredible photographs from there, with the temple reflected over the pond that lays in front of it.  I was expecting it to be a serene moment, watching the sun come up over this historic temple.  Unfortunately it was a mass crowd, pushing and shoving.  I was at the very front sitting on the ground as we got there very early, with the water in front of me and there were moments I got really claustrophobic as I looked behind me and saw bodies upon bodies without a real way to get out and no way to go forward.
If we had it to do over again, I would skip the sunrise here and head to one of the other temples.  I've heard both Bayon and Ta Prohm are beautiful at this time of day and I wish we would have done that instead.  Though in the end, it was an experience and I came away with something we can do next time if we go back.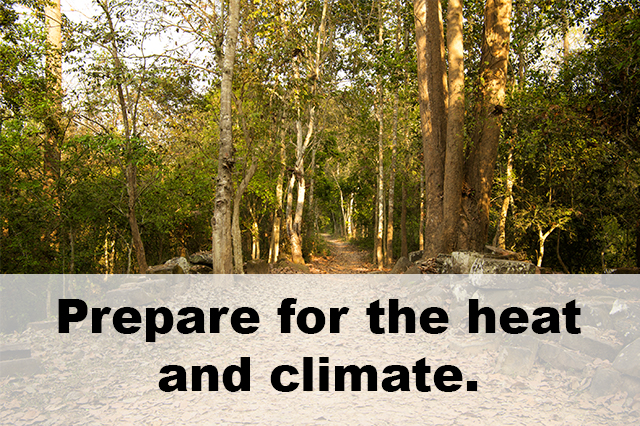 One thing I wasn't aware of before our trip to Cambodia was the full effect of what the climate would be.  To be honest, I was expecting it to be tropical like the rest of SE Asia, but I wasn't ready for the intense heat and humidity we encountered and it really got the better of me during our time there.  If you're not used to that sort of climate, you really need to be prepared.  Drink lots of water, wear loose clothing, wear sunscreen and make sure to take care of yourself.  There were times we just wanted to get in the back of a tuk tuk and have them drive us around just to get a breeze and cool off. The humidity especially really got to me and made me physically sick a few times, so be sure to take your time and sit down when you need to and drink lots of water.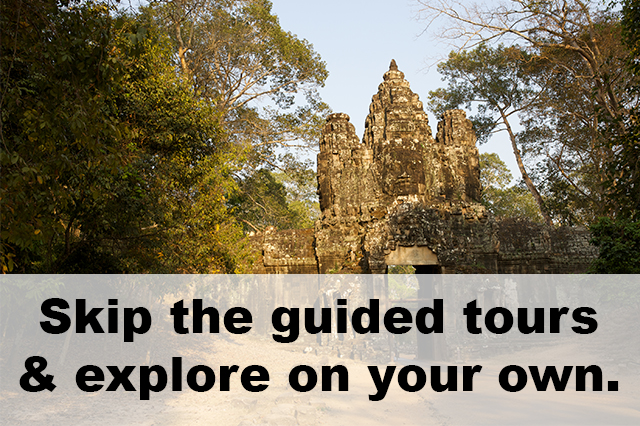 We hired a guide that had been recommended through someone we know for our sunrise visit to Angkor Wat and it ended up being a total waste and we let him go early.  First off, he left us while the sun was rising as he went to get "coffee" which upset me as we were paying him for his time and he was gone for about an hour.  Then it was a hassle trying to find him, we wanted to head on to Ta Prohm and he insisted on walking us around Angkor Wat a bit more.  He didn't tell us anything we couldn't learn from a guidebook and to be honest, we were pretty annoyed when we finally let him go.
We had a much better time exploring on our own.  I would suggest doing research before you go for which spots you particularly want to hit and then map out an agenda.  Also remember you won't be able to explore much throughout the middle part of the day as it's too hot, so schedule your exploration for the mornings and evenings.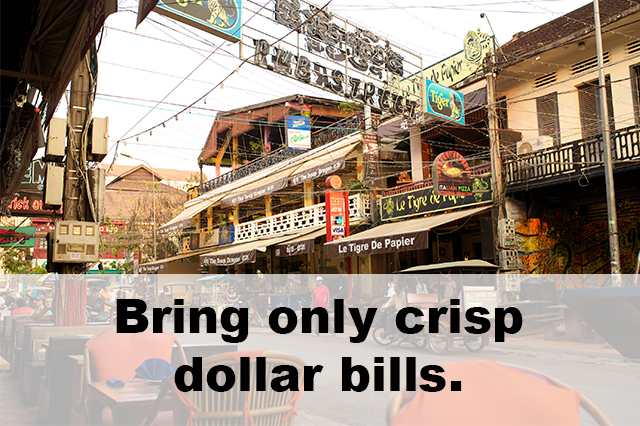 Cambodia uses the American Dollar as their currency and they are pretty picky when it comes to how the bill actually looks and feels.  I had heard of this before we left, so I went to my bank before the trip and had them sort through a bunch of dollar bills to get the crispest ones.  There were many times I saw it happen on this trip that the Cambodians would ask for another bill if it wasn't crisp.  They won't accept any dollar bills that have tears or writing or even folded edges, so be aware of that before you go.  This happened at both the ticket booth for the Angkor passes to the couple in front of us and at a table next to us at dinner on Pub Street.  Make sure you take only crisp dollar bills with you and if you get it before you go, your bank will go through and make sure they only give you crisp ones.