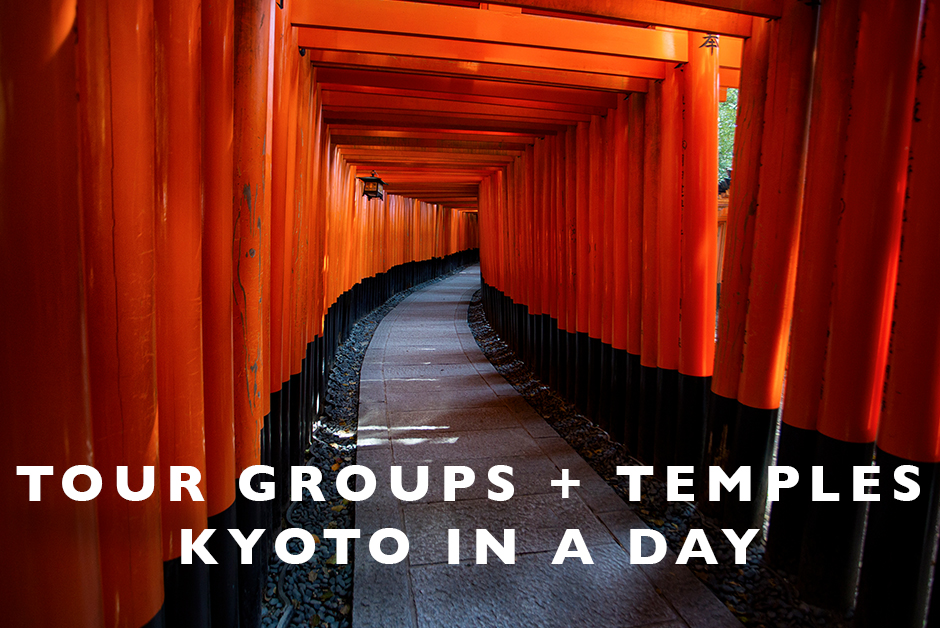 When we knew we were headed back to Japan (after our first visit to Tokyo a couple years ago), I was actually most excited to visit Kyoto, a city I had heard so much about and seen so many photos from.  It was one of those places that I think my expectations were a little too high and to be honest, of all the cities we visited on this trip, Kyoto ended up being my least favorite.  I think perhaps going back in the off season (not peak Cherry Blossom season) might be a better option to really experience it how it should be experienced, but while our day in Kyoto was a little crazy, we still covered a lot of ground and saw a lot.
We arrived in Kyoto pretty early in the morning (around 7am) on the bullet train from Shin-Osaka station to Kyoto Station which took only about 14 minutes.  And because we were jet-lagged and up early, as well as wanting to get an early start at the tourist sites, we quickly realized that nothing in Japan really opens up that early.  We had planned on getting breakfast at the train station or nearby in Kyoto and since nothing was open, we jumped on a train and headed to the Arashiyama Bamboo Forest first thing that morning.  The train was simple and when you get off, there is a map that points you in the right direction down a path that takes about 10 minutes-ish to walk to the bamboo forest.  We were a little confused looking at the map and a nice Japanese gentlemen helped us along – an anecdote that is so true to the Japanese people and something I love about their culture – how helpful and kind they are to everyone.
After a beautiful walk down back alleys and little lanes, we arrived at the entrance to the Arishayama Bamboo Forest.  I had seen photos of this but it really is breathtaking in person.  We were lucky that because we were there so early, there weren't a lot of people (unlike when we left an hour or so later and it was getting crowded) and the early morning sun was shining through the bamboo and illuminating it oh so beautifully.  We meandered along the pathway, taking it all in and then circled back toward the entry as tons of people were headed up.  Wandering back toward the train station, we jumped on the train back to Shin-Osaka station, grabbed some breakfast now that things were open and then jumped on another train taking us to the famous Fushimi-Inari shrine that I've seen so many photos of.
This is sort of where our day went a little downhill – we boarded the train that wasn't set to leave for 12 minutes.  Within those 12 minutes the train started really filling up, like people packed together filling up.  And it was all tourists, mostly Americans who proceeded to be loud and obnoxious, yelling and swearing and whacking people with their monster backpacks.  Now I feel like I should preface this by saying, I have a whole post coming on this subject, but I whole heartedly believe that everyone should try to blend in a little better when traveling and try to be respectful to the local culture and this train full of people who were being overly loud and rude, for me threw off the whole experience of the Fushimi Inari shrine from the start.
After the train arrived at the shrine entrance, it was a mass exodus from the train as we all started up the hill toward the shrine.  Now this shrine really is incredible and beautiful and it's tucked into the hill side with thousands of red gates leading towards the top of the shrine.  And I can only imagine how beautiful and serene it is when no one is there – I would love to experience that.  Our experience there was sort of like cattle being herded into a fenced area.  People upon people upon people, loud and ignoring what signs said for which ways to go.  It was pretty chaotic and we definitly get to experience this monument like I think it should be experienced.  It took Nick about 40 minutes of waiting in one spot to get a photo of the shrine without mass amounts of people in it.  So while, yes, go see the Fushimi Inari shrine, I would recommend a couple things: 1) If you go in peak season, go first thing in the morning and 2) Go in the off seasons and really enjoy it.
After that, we grabbed a taxi and headed to Pontocho, a little alley way near the Sanjo train station that is a beautiful little old Japan scene with lanterns and tiny restaurants.  Wandering down the alley, we then meandered over into the Nakagyo-Ku ward of Kyoto and came across the most beautiful little canal and cherry blossom trees totally by luck.  We spent some time just taking it all in was the pink petals fell like snow and the water reflected back the beautiful scene.  We grabbed lunch in the area (which was our least favorite meal of the trip) and then finished our day in Kyoto by walking back to the train station to jump on a bullet train back to Osaka.
All in all, I'm glad we saw Kyoto, but I would definitely only go back in the off season or try to see things early in the day as Kyoto is a huge tourist draw in Japan and it just made the whole day there a little chaotic.
Traveling to Japan?
See all my posts on the country!