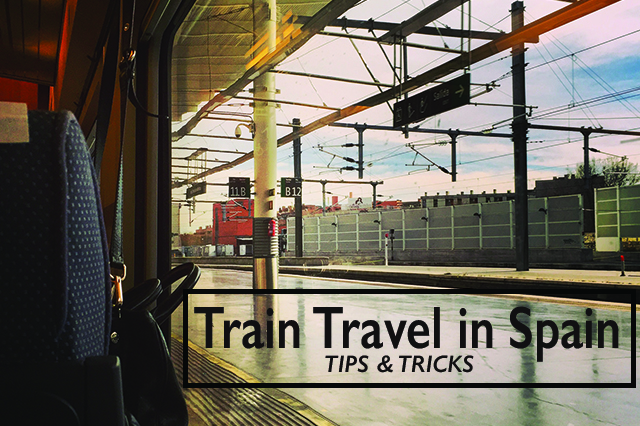 Whenever we travel, one of our favorite ways to get from place to place is by train.  It's something I wish the West Coast of the US did better, because in Europe and other places in the world it's so convenient and the pros almost always outweigh the cons: you don't have to get to the station as early as an airport, you actually have some space on a train, they are comfortable and you can bring as much luggage as you want.  But even though I love traveling by train, we found out a few tips and tricks about making it easier for train travel in Spain in particular on our recent trip.  We took the train from Madrid to Sevilla, and then another from Sevilla to Granada – both trips were wonderful, but we learned a few lessons along the way, so I'm here to share those lessons with you so you have an easy trip!
Buying train tickets on RENFE's website + using Paypal.
Let me tell you, this was not easy.  When I went on to book our tickets on RENFE's website, it was seriously a struggle.  Their English version wasn't working and everything kept defaulting to Spanish. Needless to say, by the end of it I just gave us and went through it in Spanish as best I could (I did understand most of it, but of course you want to be sure when booking travel).  When I got to the end, it would take my American credit card (Courtney of Adelante had warned me about this) so I opted for the Paypal choice of payment instead.  It worked really easy with Paypal, processed immediately and I was sent my tickets.  For all the hassle, it worked out alright but just know ahead, brush up on your Spanish and use Paypal instead of a credit card.
Local trains only open booking close to travel dates.
For our train from Madrid to Sevilla, I had no problem booking a few months ahead, but when I tried to book our Sevilla to Granada ticket, it wasn't showing any availability.  After googling it, I found out that Spain's local trains many times don't open up booking until about 2 weeks prior to the travel date.  So mark your calendar and go back then to try again.  I had no issue when I went back later and these I actually booked through Rail Europe since the price was the same as RENFE's website and I could do it all in English, which I just felt better about.
Speaking of Rail Europe…
I generally use Rail Europe's website a lot to book train travel in Europe, though this time, I found their prices for our Madrid to Sevilla segment a lot higher than RENFE's website.  When that happens, go to the source and book on the country's own train system.
You only need to arrive about 20 minutes before your train.
I'm always early for everything, it drives me crazy to be late.  So it's actually a struggle for me not to show up to the train station like an hour early, but you really don't need to.  20 minutes before your train is fine.
Spain's trains are well marked, so no need to spend time searching for your carriage.
In many countries where I've taken trains, there is a seat assignment on your ticket but finding that coach number and seat can be very confusing without the coaches being well marked.  I usually have to ask someone what coach I need to head to, but not in Spain.  Each train we took had digital boards on each coach marking coach numbers and seat numbers were well marked.  We remarked many times how efficient they were.
Don't forget to take in the countryside.
One of the things I love most about train travel is that you actually get to see the countryside you're spending through.  Spain's countryside is breathtakingly beautiful, so don't forget to take it all in while you travel.
Traveling to Spain?
See all of my posts on the country!