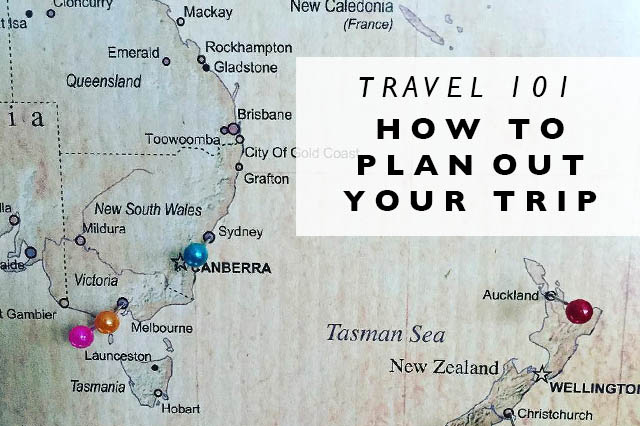 We are currently exploring some of favorite (and some new) spots in Europe this week, but while we're away, one of the goals of Land of Marvels is to offer advice to those of you who want to travel in order to get to that dream destination yourself.  So this week, in Travel 101, we're touching on the basics of how to travel, what to do once you get there and everything in between.  So follow along and welcome to Travel 101!
So you've booked your trip, now what?  Once you hit that "book" button, now your trip is real and you have to make the most of it.  So how do you do that?  Everybody does it differently, but for me, I'm a planner.  I like to have a layout of the trip and how everything fits together, how you get from A to B and an idea of timing for specific things that it's necessary for.  So here are my best tips for how to plan out your trip!
Do the research.
Research is a huge part of having a great trip.  If you don't know anything about your destination or how to get around, it's likely you'll waste a lot of time and money figuring it out on the go.  Research everything from language to customs to maps of the city to restaurant recommendations to tourist destinations.  Figure out which items you'll need more time for and which can have tickets bought in advance instead of waiting in long lines when you arrive.  All of that take research, so take the time and do the research first.
Make a day by day itinerary.
Because I'm totally Type-A and I need to have somewhat of a layout when we travel, I start during the research phase making day by day itineraries of what each day might look like.  On here I include flights or connections, or maybe ideas of which areas of a city we might explore that particular day.  Having that layout, helps me have a place to put anything I find in my research or help me figure out when we might have to be at a specific place at a specific time.  We might not always necessarily follow this to the letter, but at least it's a starting point while on the go when traveling.
Book flights first, hotels next, activities last.
As you're filling out your itinerary, you'll also simultaneously need to be booking all of the miscellaneous items that need to be booked for a big trip.  Personally, I book flights first, then hotels, then activities last.  That way, flights book you in the most with it being harder to cancel or change, so get that set on your schedule and itinerary at the beginning.
Then go through and book your hotels.  I've talked before about how I select my hotels for trips, but I make a shortlist and then see which ones are the best prices and availability and then book for each night of the trip.
Finally, after my flights and hotels are booked, then I jump into the activities realm of a trip.  This usually happens closer to travel dates so you can be sure of what your schedule looks like, but many places allow you to book tickets for tourist spots ahead of time which can be nice  or you might want to plan out any special day trips or things like helicopter rides or what have you.
Leave some time to wander.
The most important thing when planning out travel, no matter how Type-A you are, leaving some time that isn't planned or time to just wander or see whatever is around you.  Sometimes over planning a trip can actually leave you feeling exhausted and overwhelmed, rather than just enjoying the beautiful place you find yourself in. So leave some spare time too… even if you're an over-planner like me!