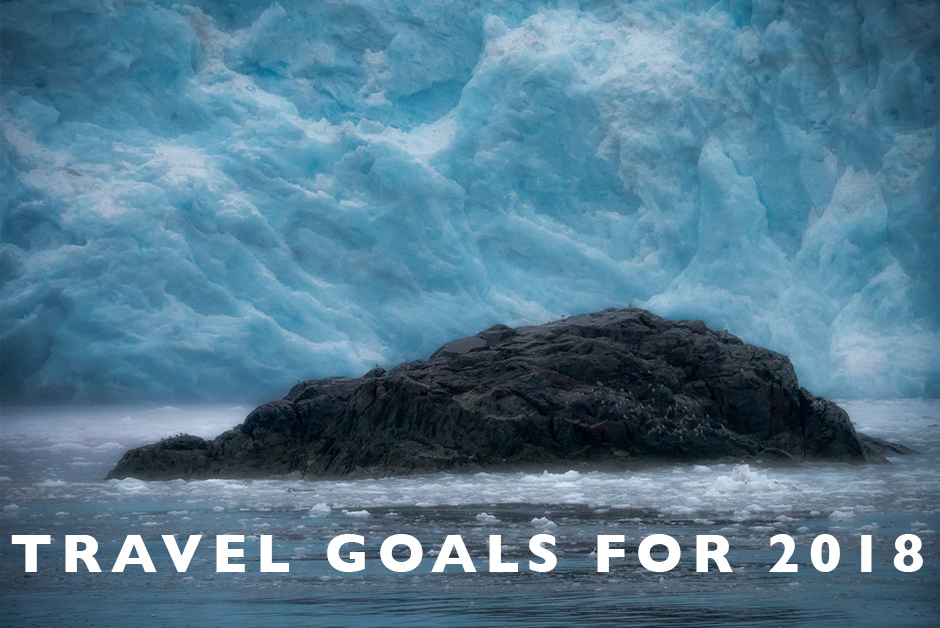 Every year I like to start the year by making goals for myself and my travels in the year to come.  Goals, for me, are a way of keeping everything straight when sometimes life throws curveballs here and there.  For every trip, I like to keep these travel goals in mind and be aware of what's happening around me to stay focused on what's really important.  Here's what I'm hoping to achieve through our travels this coming year in 2018.
Return trips to some of our favorites and explore deeper.
This year we are headed back to some of the places we have fallen in love with over the years and will be exploring them more deeply on return trips.  We'll head back to Japan in March, a country we fell hard for when visiting Tokyo for the first time in 2016.  I'm excited to enjoy the country during Cherry Blossom season and take in Kyoto, Osaka and more during a return there.  Then we'll head back to Alaska in May with a cruise up the coast and we'll get to see more of this stunning US state and stop in a few different cities along the way.  I loved the Anchorage area of Alaska when we visited in 2016 and hope to explore a little deeper and see more on our cruise in the area.  And then later in the year, we'll most likely head back to Scotland (we are planning it, but haven't booked yet) and do a road trip through the highlands, the Isle of Skye and explore more of one of the most beautiful countries we've been to.  When we visited in a few years back we explored Edinburgh and St. Andrews, and loved it, so this trip I want to go even deeper and see more of Scotland and its raw beauty.  I really want to dive deeper this year into places we've only touched the surface of and really take it all in.
Look for beauty all around me.
One of the things that sometimes gets missed in our day to day lives is really taking in all the beauty around us as our lives get busier and busier.  In our travels this year, I want to really look for the beauty around me and really see it.  I'm hoping for a beautiful cherry blossom season in Japan, for incredible Alaskan landscapes and local scenery in the Pacific NW as we explore closer to home.  I'm hoping to really see the beauty in the world around us and take full advantage of it this year.
I want to be moved by people and places as we travel.
I find a wonderful sentiment in travel that moves me and I am constantly looking for that emotional quality when I travel.  This year though I want to go further into that though and look for people and places to move me emotionally as I travel, to offer an emotional connection with the places on our itinerary for the upcoming year.  I want to connect deeper this year and feel more.