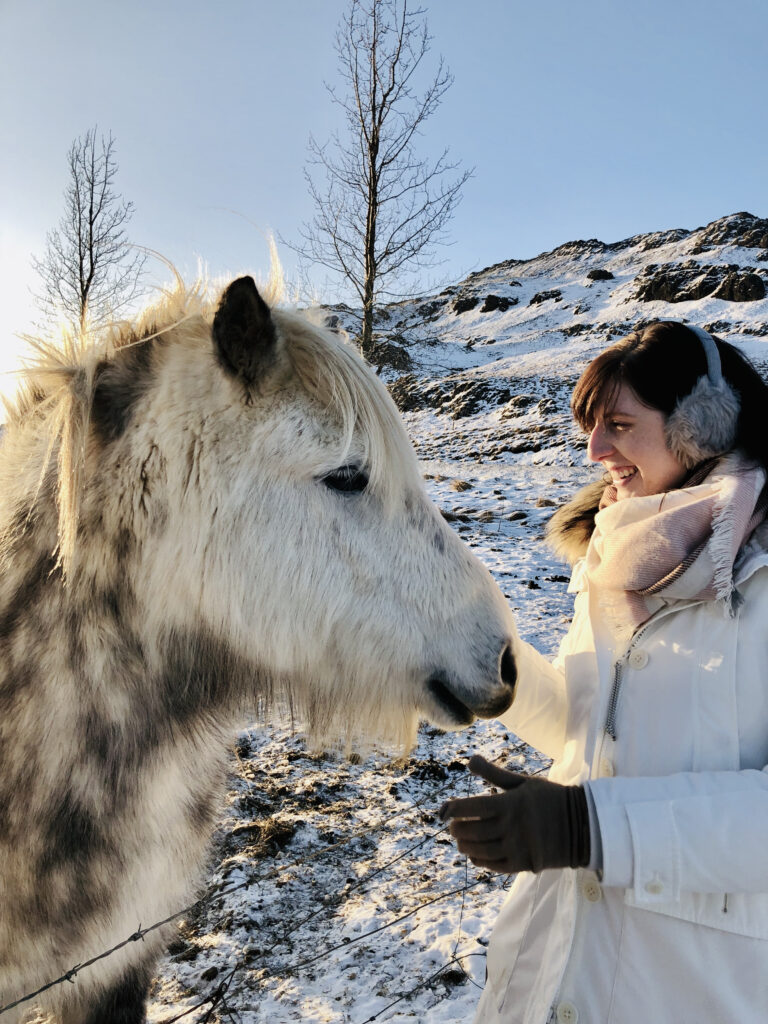 Iceland is a magical place and after our fourth trip there this past year, I feel like I finally have the hang of travel in this incredible country.  And while we've learned a lot over our four trips to the island of fire and ice, there are some things that I constantly tell people that ask me before going.  So I compiled my list of the must do's and don'ts before you head to the mythical and incredible Iceland!
Do…
Stop to play with horses.
Perhaps my favorite travel experience in Iceland are the incredibly friendly and beautiful Icelandic horses that will come up to you on the side of the road and let you pet them.  I love horses and this is always one of my very favorite things to do in Iceland and something not to miss!
Get off the beaten path.
Iceland's beauty is definitely off the beaten path and while the tourist spots are beautiful too, I've always found that our favorites have been the spots that you just stumble upon when no one else is around and you have the views all to yourself.  Be sure to get off the beaten path during your visit for the best of Iceland.
Embrace the wildness of the landscape.
Iceland's raw and desolate landscape is simply stunning and the best description I can muster is that it feels like you truly are on a different planet than Earth.  But to really enjoy it, leave your expectations on the plane and really embrace the wildness of the island, the desolate emptiness – that's when you really enjoy the beauty that awaits you.
Make a plan of where you're headed, but be flexible.
Always have a plan of where you're headed in Iceland as you can drive great distances to get to different places and you want to give yourself time, but with that said, always be flexible because things can change in an instant.  Crazy freak snowstorm in May?  1 lane gravel road where you have to go way slower than anticipated and looked like a highway on your map?  Endless stops for photos that take way more time than you thought?  We've encountered them all – so be flexible but also be prepared with a plan.
Drive yourself.
On our first trip we hired a private guide to drive us around, but on all our subsequent trips we've rented a car and driven ourself.  I'd highly recommend the second option – you'll have so much more flexibility in what you see and where you go.  It really is the best if you can drive yourself.
Don't…
Stay just in Reykjavik.
A lot of tourist just stay in Reykjavik and do a day tour of the Golden Circle which includes the main attractions close to the city.  My first advice to anyone going to Iceland is to not JUST do this!  The true beauty of Iceland lies far from Reykjavik and the Golden Circle and you'll want to give yourself time to really see the island and what makes it so stunning.
Underestimate the weather.
I can't tell you how many times we've heard stories of people going to Iceland and saying "Oh I'm great with that type of weather, I grew up in snow."  And then when they get back, they say, "Wow, that weather is no joke."  Icelandic weather is famously unpredictable and can be really intense.  Even if you're used to cold and snow, both in Iceland bring an entirely new perspective on Winter weather.  This past November we experienced snow storms that come out of nowhere and close major roads as well as 75 mph winds that quite literally blew us off our feet.  And it's not just the Winter in Iceland that can bring crazy weather, our trips in the Summer have brought insane conditions as well.  So don't underestimate the weather and pack and act accordingly.
Expect world class food.
While I adore Iceland and have been several times and plan to return several more in the future, the food there isn't super great.  And while it's totally fine and you'll be able to eat well, don't expect world class food that's going to blow you away.
Forget to take in the surrounds.
Iceland is one of those destinations that you really must stop and just take in the beauty around you.  It's an almost spiritual experience and some of my most amazing travel memories have come out of standing in the middle of Iceland without another soul for miles, just taking it all in.  Don't forget to really take in the moment and where you are, because there is literally no other place like Iceland.
Headed to Iceland?