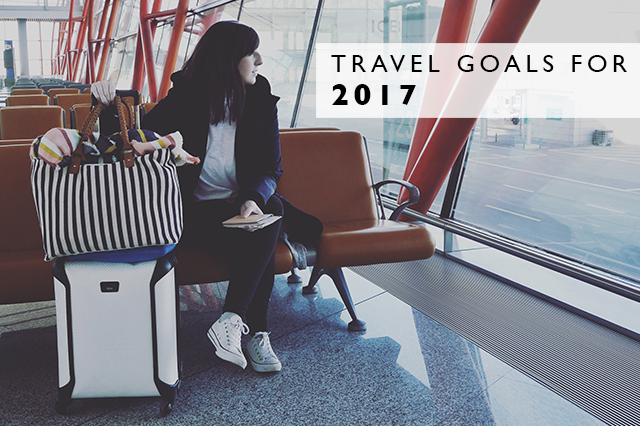 Happy New Year!!!  Every year I like to come up with some travel goals for the year ahead – goals to guide me as I explore more of the world and really focus my travel.  This year we're changing up a bit how we travel in terms of schedule and making some different efforts around where and how we travel so it will be interesting to see at the end of the year how we feel about the changes.  But for now, looking ahead, here are my travel goals for 2017 in the year to come!
See more of the USA 
Every year we check off a few places in the US, but this year I want to make it more of a priority to see more of my own country and our neighbor to the North, Canada.  We already have trips planned to Virginia, a road trip from Portland to Glacier National Park and Yellowstone, as well as many Hawaii trips for work and family events.  We're also looking at a return trip to Vermont and upstate New York next Fall for more Fall foliage and maybe a weekend trip to Las Vegas.
All in all, I hope to see more of what is closer to me and within my own area of the world!
Embrace the unknown and more spur of the moment destinations.
As we travel more, we're realizing that sometimes our favorite places are those that come up spur of the moment or that are a little bit more unknown.  This year we're trying to take advantage of more airfare deals with destinations that might not have been at the very top of our list or places that might just be more convenient in the moment.
For example, we booked a long weekend in Stockholm for January when an insane airfare deal came up ($350 roundtrip from LA to Stockholm) and while the city is on our list, it wasn't ever a huge priority to get to.  Though I'm super excited to enjoy a Winter weekend in this famous city.
Secondly, our trip to Bavaria and Austria in March came about when our first plans for a destination fell through.  Sometimes, the unexpected ends up being an amazing adventure and I hope more of that comes about in 2017!
Shorter more focused travel.
We're experimenting this year with shorter, more focused travel instead of long 10 day trips.  We're cutting our normal Spring trip down to 7 days this year and then taking more long weekend trips throughout the year to see how that works with our schedule.  Often we find it's easier for time off and work to be gone for less work days and easier to catch up when we get home.  So we'll see how this goes!
Embrace the road trip. 
2017 is shaping up to look like the year of the Road Trip.  So far we have plans for a road trip through the countryside of Virginia, driving through the beauty of Bavaria and Austria, as well as a trip from Portland headed to Glacier National Park and Yellowstone.  We'll also be road tripping around Provence in July – so my goal this year is to really enjoy these trips and take advantage of being on our own schedule, seeing as much as we can!