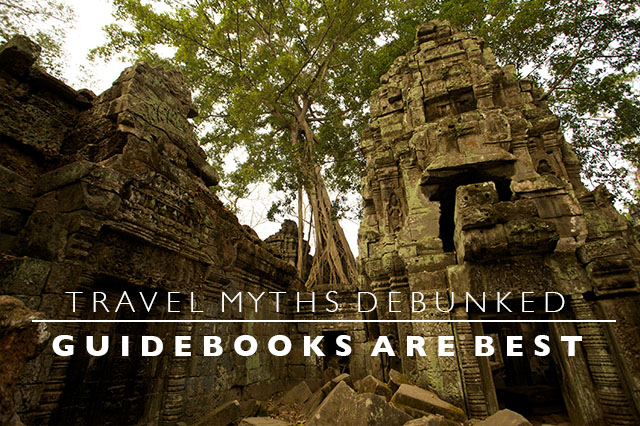 In this week long series, we'll be looking at debunking some of the travel world's myths and explaining the truth behind these sentiments.  So follow along this week for some of the most well known travel myths and how we prove they aren't true.
You can always tell if people have traveled before if they rely solely on guidebooks when planning a trip.  I started that way too, looking through Frommer's guides and Lonely Planet books on countries I was going to visit.  And while I still buy them as needed and use them for specific research, I have found over my years of traveling that guidebooks really don't provide the best and most up to date information that you need to know when traveling.  There are so many amazing resources out there now that provide better information than the old fashioned guidebooks that are heavy and clunky to travel with, that today we're debunking the theory that guidebooks are best for travel research.
You'll find the best, most current recommendations on Instagram and travel blogs.
Travel blogs and social media are truly the best source of information regarding traveling.  I like to start following specific accounts and blogs when I know I'm headed to a specific destination.  I also screenshot any restaurants, activities or hotels that look cool from people I follow and keep them filed so that when I'm headed to that destination, I can look into them.  You'll find the best, most current recommendations this way; things you'd never find in a standard guidebook.
Use travel guides like LUXE or Wallpaper guides that are small and can travel with you.
My favorite travel guides are the LUXE city guides and Wallpaper guides that are small, have relevant, modern information and that can be easily slipped into my purse when exploring without having to lug a giant book around.  Both companies are really modern and offer great advice for young travelers in a fun sophisticated way.
Download travel apps before you leave home so you can access information on your phone.
Most travel guidebook companies now have apps, which means you don't need that big guidebook anymore.  Download the relevant apps before you leave for your trip and then you can access whatever you need to on the go on your smart phone.