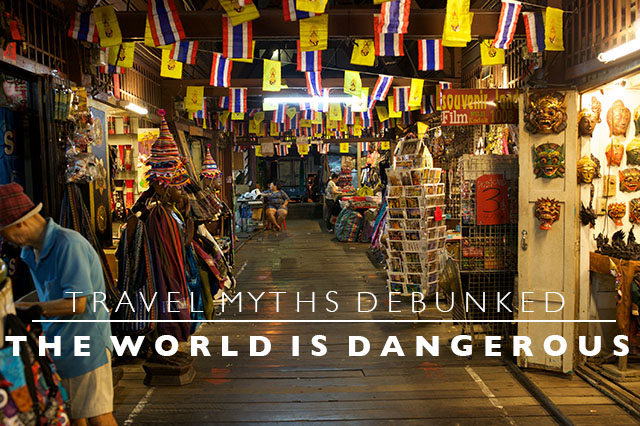 In this week long series, we'll be looking at debunking some of the travel world's myths and explaining the truth behind these sentiments.  So follow along this week for some of the most well known travel myths and how we prove they aren't true.
For some reason, a large majority of people really believe the world is a dangerous place.  It's probably the media and the bad things being replayed over and over.  But all in all, the majority of the world is totally safe to travel to.  Of course you still need to be safe, but so do you at home, so with some planning and common sense, the world really isn't all that dangerous and doesn't need to be feared.
You should travel safe, no matter where you are but don't let that hinder your experience. 
One of the things that really bothers me from people I know are the comments that traveling is dangerous.  The thing is, you can have more happen to you around your home than while traveling, so being safe no matter where you are is important.  Travel safe, stay in well lit areas if you're out at night, keep your belongings safe and use common sense and you won't have issues.  Don't let the fear of danger hinder your experience, just be safe in general and you'll be totally fine and enjoy the travel experience.
There are more kind people in the world than dangerous ones.
I'm constantly amazed, regardless of what you'll hear in the media, by how many amazingly kind and helpful people you'll come across while traveling.  People want to help you if you let them.  Put your faith in the good side of humanity (while still being safe of course and listening to your intuition) and you most likely will be blown away by how kind people can be.  There is far more good in the world than bad.
Don't believe everything you hear.  But do your research.
I hear all sorts of things from people in my life about destinations we travel to.  Before we went to Cambodia last year I got all sorts of comments from relatives about why we would travel to such a war-torn, unsafe country.  It turned out to be some of the friendliest people we've ever encountered while traveling and we had no qualms about safety while there.  People remember one bad thing they've heard over the years about a place and instead of looking into it or moving forward, they hold on to it and let it define a place for them.  Don't do that.  Do your research and don't believe everything you hear.  Some of the most incredible places on this planet have had conflicts in the past or something negative in the media, move forward and embrace the country for what it is now.