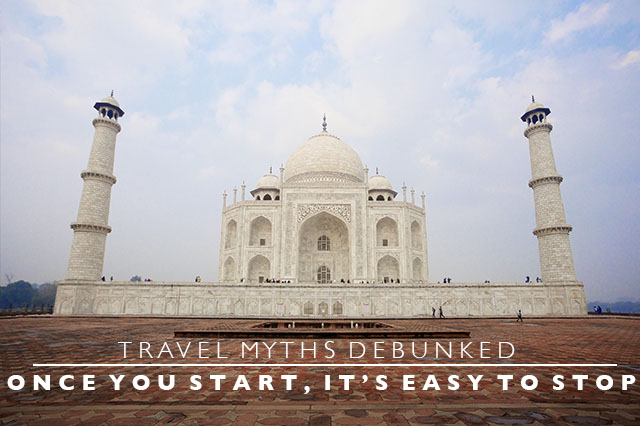 In this week long series, we'll be looking at debunking some of the travel world's myths and explaining the truth behind these sentiments.  So follow along this week for some of the most well known travel myths and how we prove they aren't true.
I recently had a good friend say to me, "you guys have seen so much now, I bet there aren't a lot of places left to see."  It struck me as strange because as a traveler, the more you see, the more you want to see.  But that's often the mentality, that once you start traveling, once you start seeing the world, it's easier to stop.  In fact, in reality it's the complete opposite and yet that sentiment is brought up a lot to me by people who haven't traveled.  So for the record, once you start traveling, it's definitely not easy to stop and here's why…
The world gets smaller as you see more.
When you travel, you realize how interconnected we all are.  And while you start with this notion that the world is so big, you eventually come to the realization that actually it's very small.  The web of connections around the globe is getting smaller and more connected thanks to technology and ease of travel, so once you start seeing new places and see more and more of the world, the connections make you want to see everything even more.
Places that you never even knew existed are shared and found so easily on social media.
A large percentage of our travels to places have happened not by traditional research but merely through finding them on social media.  Instagram and Twitter and blogs have revolutionized the way we travel, including more and more places that we want to see that we might have never even thought of before.
Travel is all about exploration and seeing all you can.
There is no such thing as a true traveler who travels to one landmark place and says, "ok I'm done, I've seen enough."  Travel is about exploration, it's about trying new things, and it's about doing it as often as you can.  The mindset is that there really is no amount of time that you could offer to see everything.  You have to keep doing it and know that you might not be able to get everywhere but you'll try because you truly want to see and experience the world.