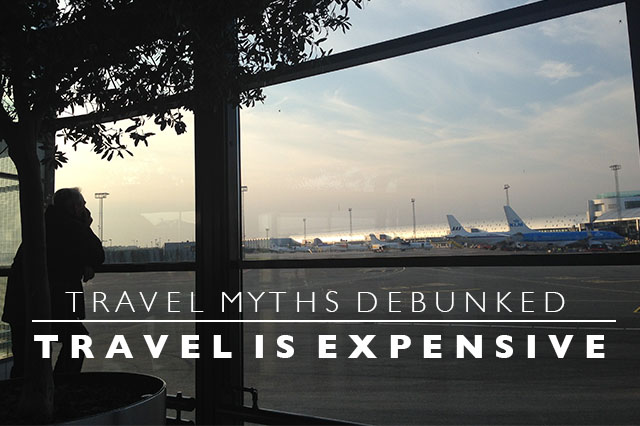 In this week long series, we'll be looking at debunking some of the travel world's myths and explaining the truth behind these sentiments.  So follow along this week for some of the most well known travel myths and how we prove they aren't true.
One of the things I hear the most often regarding travel is that it's just too expensive for the average person to see more of the world.  And while, yes, flights and hotels and activities cost money, it doesn't have to be expensive and here's why…
Traveling abroad isn't always more expensive than domestic travel. 
This one is one of the complaints I hear time and time again.  And yet, if you can afford to take your family to Hawaii or Disneyland for a week, those trips easily cost way more than it would cost you to spend a week in some of Europe's cheaper cities or in SE Asia.  I guarantee it.  If you pick the right place and spend your money well, there are lots of options to travel abroad that are the same price point as those domestic vacations you're taking.
Those airline and credit card miles you have sitting and have never touched…that is money wasted.
I can't believe how often people let points and miles just expire and never use them.  Points and miles are such an amazing way to cut cost on travel and you literally don't have to do anything other than keep track of them.  Get a credit card that works for you (my favorites are the BA visa, the Sapphire visa and the AA MasterCard) and rack up points on your daily spending.  Just to give you an idea how much points and miles can be worth: we just booked first class tickets to Europe from the West Coast of the US for only $5.  That's an incredible deal to save money on travel…don't let them expire, use those points and miles for flights and hotels and rental cars!
There are a plethora of low budget airlines and hotel chains that offer incredible cost for wherever you're headed.
Anymore, you can find such cheap flights to anywhere in the world that I get tired of people complaining about the cost of airfare.  You can fly from LA to Scandinavia on Norwegian Air for as little as $199 each way or from the East Coast of the US on WOW to Iceland, Paris or Amsterdam for just $99.  I can't even get fares like that from Portland to Vegas (an hour and a half flight).  If you really want to travel, and you put the time into research, there are so many amazing low budget airlines and hotel chains out there that won't break that bank.  AirBnB is another amazing way to save money on travel and lodging.  There are lots of deals out there, if you're willing to look.
There are a lot of places in the world where you'd spend less per day on a vacation than you would at home.
There are numerous places around the globe where your day to day expenses will be such a fraction of your day to day expenses at home that you could easily spend a week and come home with money left over from what you'd be spending at home.  Places like SE Asia, India, some places the Middle East or Indonesia, you could live well on a fraction of what it costs in Europe or the States.  So find a place that you can afford and you might end up even saving money in the long run!