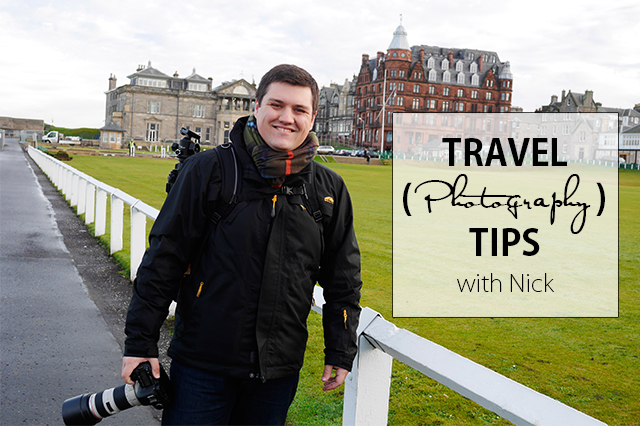 Most of you are aware by now that the majority of the photos on these pages are by my husband Nick who has a wonderful eye for creating gorgeous images. And in my new monthly series, Nick is back guest posting today, offering tips and tricks he's picked up over the years through our travels. From some of his favorite lenses to travel with to how he gets the shots he does and so much more, welcome to the next installment of Travel (Photography) Tips!

I am really fortunate that I have had the opportunity to travel to a lot of wonderful places over the past few years. I have been lucky enough to bring my camera and shoot photos at all of these interesting locales, places you've seen on this blog, like Iceland, Morocco, Ireland, Paris, India and Cambodia. I often get asked what's in my travel bag, how much gear do I take and how do I pack it. Traveling with photo gear adds a bit of complication to your trip, so having a plan for your gear will make a big difference and today I'm sharing my thoughts and strategy below.
First off, I will be the first person to tell you I pack a little too much gear. I like to prepare myself for anything and there have been many times I've gone to a location planning to use one lens and ended up using an entirely different one. How do I handle all this gear? I use what I like to call the 2-Bag system. One bag is the kitchen sink full of gear and accessories and another much smaller bag with only the essentials for a day of shooting.
Bag 1:
My main bag is full of all the gear for the trip, usually a backpack but sometimes I use a medium sized messenger bag. Everything goes in this bag: camera, laptop, lenses, accessories, etc… The main bag stays in the hotel or rental car and only comes out with me when I'm doing photo specific outings where the sole purpose is to take photos. When I'm not leaving the main bag at the hotel I lock it up to prevent people from walking away with it.
Bag 2:
I have a small shoulder bag that I can fit a couple of lenses in and a few accessories. This is the bag I take out during a day of exploring. It only fits a few items that I will need during the day and no extras. Being that it's light, it's easy on my back, I can move through crowds easily and doesn't look inconspicuous for pick pockets. This is great when we are shooting on the streets, exploring attractions like museums or out for an evening stroll.
Below are a couple examples of typical bags. I don't want you to think that because I take this much gear you have too as well. My hope is you find something that I pack that might help you on your trips or that gives you an idea to pack your photo gear a little better.