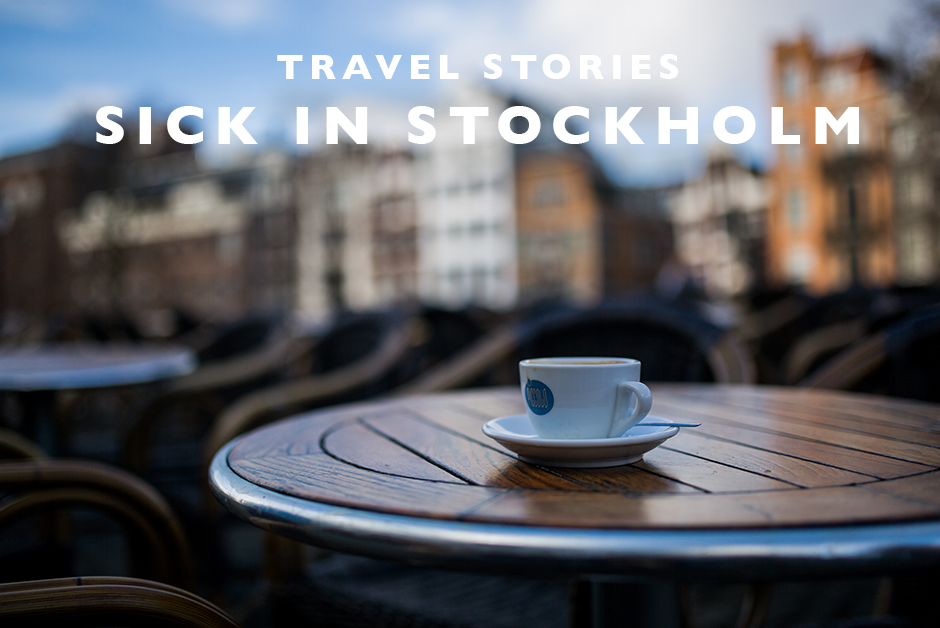 Some travel stories are comical, some are sad but hopeful.  This one honestly at the time when it was happening was a story in juxtapositions.  Looking back, it's comical to Nick and I but it just shows that "out of sight, out of mind" is sometimes a coping mechanism that allows you to overlook almost anything.  To start this travel story, a few years back, I saw a travel deal for flights from LAX to Stockholm in January for just $200 per person, roundtrip.  I called Nick at work and talked him into doing a long weekend in Stockholm.  Even though we knew it would be cold and that it would be a super quick trip, like only 2 days on the ground quick, we decided to do it.  For that price, I couldn't pass it up!
Fast forward to the day we left and our flight out of LAX on a Friday evening started off badly.  It was departing from a really far away terminal and we walked for what seemed like miles to get to the gate, only to find out it was delayed, over and over again.  We sat in that old terminal on the outskirts of the Thomas Bradley International Terminal, with no food in that area and old cheap seating for what seemed like endless hours.  Nick started not feeling great before we even got on the plane but once we got airborne, it got worse.  I'm not sure exactly what he had, whether food poisoning or a flu but he was basically on the floor of the airplane bathroom the whole flight really sick.  It was a miserable flight for him obviously and I spent the whole flight worrying about him.  We got little to no sleep on the red-eye and arrived into Stockholm exhausted, but by the time we landed, he was luckily feeling a little better.
Our 2 days in Stockholm were honestly some of the best travel days we've had and I don't say that lightly.  Honestly, a lot of people gave me such a hard time that we'd fly to Europe for just 2 days but sometimes in those really short travel experiences, you find that you're living even more in the moment because you know you have a deadline.  I fell hard for Stockholm and it's a city I'd love to go back to to spend more time in long term.  We didn't have much a plan and we just wandered the empty streets in the middle of Winter, walking hand in hand down cobblestone alleys and stopping for Fika breaks with cinnamon buns and espressos to warm up.  We ate Swedish meatballs and took in the gem colored buildings of Gamla Stan and enjoyed every minute of it.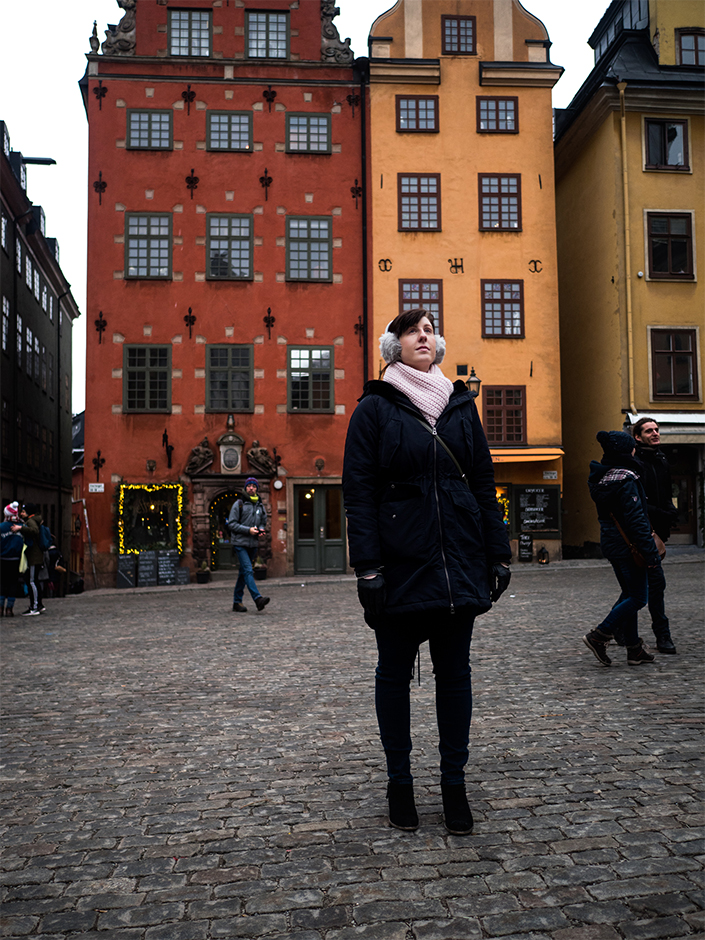 The long night on the airplane headed there seemed to evaporate like it had never happened.  And that's the magic of travel, sometimes when you can let everything go and just take the time to really immerse yourself in a place, even for just a couple of days, your experience will be that much deeper.  I find it's those trips that are quick that I actually sometimes gain more from travel, that I really let myself let go and take in every single thing I can in a different way than you do with a longer trip.  Every moment matters.  Every experience more intricate.  Our 2 days in Stockholm were lovely until the morning we were due to leave and I started not feeling very well.  Laying in our hotel room bed knowing we had to leave for the airport soon and fly home I looked at my phone to see an email from Norwegian Air that there were upgrades available for our return flight home.  I knew we had to do it, not only because I didn't think I could make it feeling the way I did in a crammed coach seat for the whole journey home but also knowing that Nick was so sick on the way over and we were desperately in need of some sleep.
The price at the time was pretty high for an upgrade and we don't usually pay for upgrades like that because I'd rather sit in Coach and save the cash for another trip, but honestly at that moment, I didn't care what the price was and I probably would have paid a lot more knowing how badly I was starting to feel.  It would also have been a lot more money to have to reschedule our flights if we chose that route and we pressed the button to pay and just went for it, cost be damned.  Thank God we did because I was in and out of the bathroom the whole way home and felt like Hell.  I kept thinking at least Nick was able to spread out and sleep in our upgraded seats and at least when I started feeling a little better halfway through the flight, I could try to sleep more comfortably too.  Sometimes you just have to just do what you can to make the situation better, whatever that means in the moment.  On this trip, paying for the upgrade was the best thing we could have possibly done, even though I still look back and can't believe we paid what we did.  C'est la vie.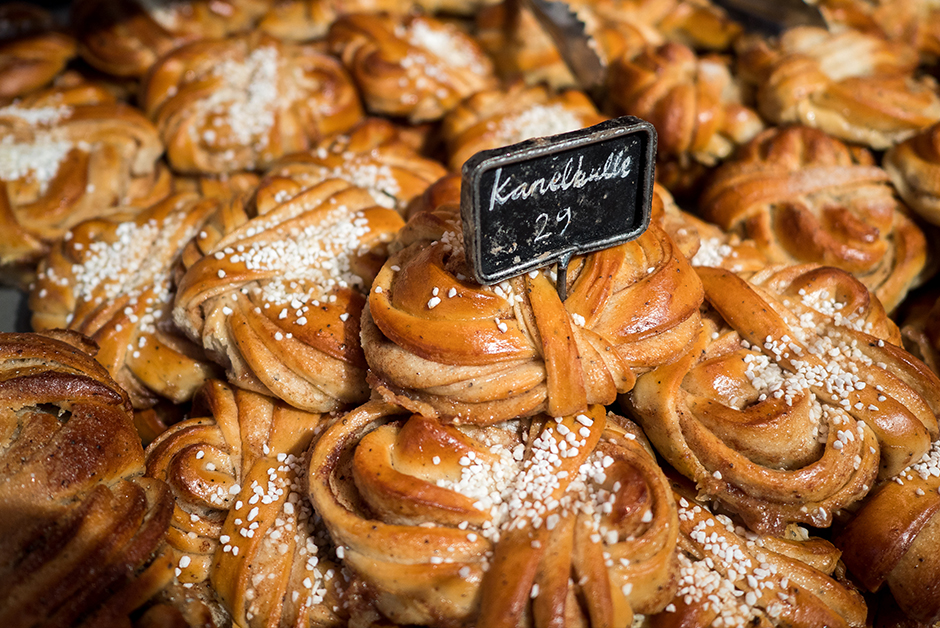 The moral of this travel story is this: travel isn't always perfect.  We get sick, we have bad experiences and we waste money on things we probably don't really "need" but in the end, I look back on that trip to Stockholm with more fond memories than I do of the negative ones.  I remember one of the best meals of my life, I remember mornings in cafes eating cinnamon buns and I remember wandering tiny cobblestone streets hand in hand with my love.  Sure, it was miserable getting there and back, and we laugh about that now, but sometimes, travel and the act of immersing yourself, will always overcome the bad.  Travel has a way of erasing the bad and leaving only an imprint on your heart of the place, of the good, of the transformative moments you had there.  Travel isn't always amazing but it is incredible and I can't wait to get back to making more memories like our 2 day escape in Stockholm.