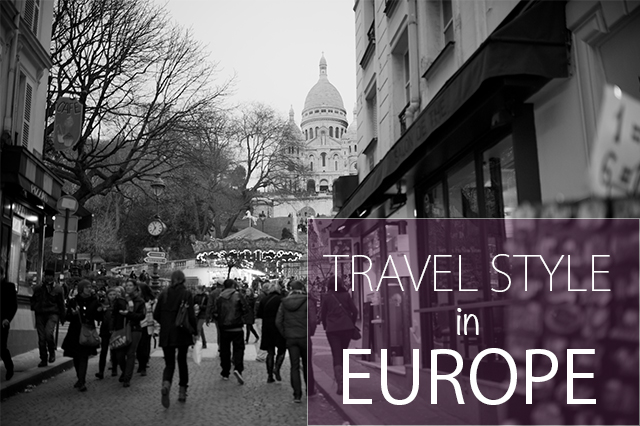 One of my favorite parts of a trip is packing for it… I know, I know… that's not the normal response to packing.  But I happen to love laying out outfits for the trip and then figuring out how to fit 10 days worth of outfits into a carry on (because that's usually all we take).
And so after many comments on our trip posts about my travel outfits, I thought it might be worth it to try something new and divulge some secrets to travel packing and what my outfits usually consist of for any given trip.  And while this isn't a style blog, I think this relates enough to travel that I feel comfortable branching out a little bit.
So here we go…
Traveling in the Spring to Europe can be any sort of weather.  Last year in March we had 70 degree blue sky days in Paris while this year is was in the 40's and gray and rainy… so you need to be prepared for anything.  And when you're gone for a week or 10 days, you generally don't know the weather that far in advance, so packing to prepare for what could come is important too.
My spring travel outfits consist of a few key items:
-trench coat / raincoat
-sweater / long sleeve t-shirt / or both
-dark denim
-scarf
-cross body purse
-comfortable shoes to walk in – usually keds/converse & a pair of flats or boots
-gloves as needed
Every trip to non-tropical climates in the Spring that I've done, I've needed every one of those items mentioned above.  You can layer and adjust as needed on the go easily with that assortment of clothing.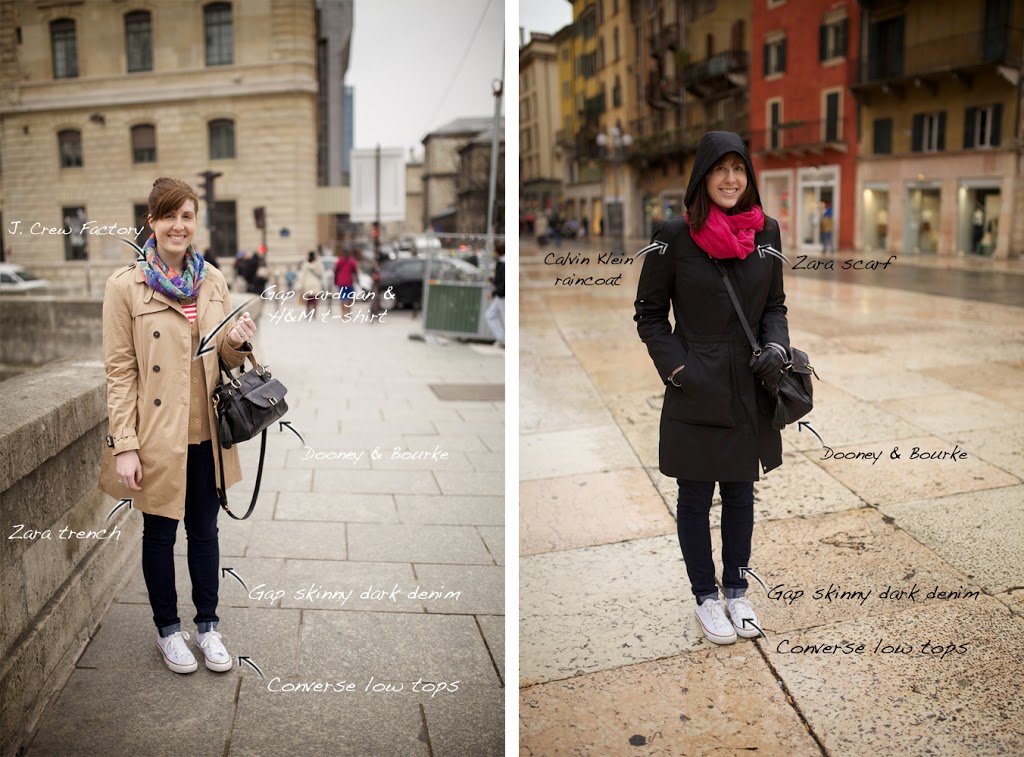 Now on to packing 10 outfits with said items in a carry on…
I generally lay out all my outfits that I want to take on my bed and then I go through and take out items that I feel like I don't really need.
To give you an idea what I took on this past 10 day trip through France and Italy,
here's what I took:
-3 coats (1 raincoat with hood, 2 trench coats)
-3 pairs of pants (1 dark skinny, 1 black legging jean, 1 dark flare denim)
-4 scarves (and I purchased 2 more on the trip because I LOVE scarves)
-1 long maxi dress and blazer for nice dinner out
-assortment of about 4 sweaters/long sleeve combinations
-2 purses (black Dooney & Bourke and a smaller cross body bag)
-3 pairs of shoes (black flats, navy flats and my white converse)
And yes, all of this fit in my carry on roller bag.
The most important part of packing like this is to make multiple different outfits with the assortment of clothes you take.  That way, even when you repeat pieces, the look is different.
I also like to have a noticeably different look on any given day so when I look back at the photos I can sort of pick out where 1 day ended and another began by what I was wearing.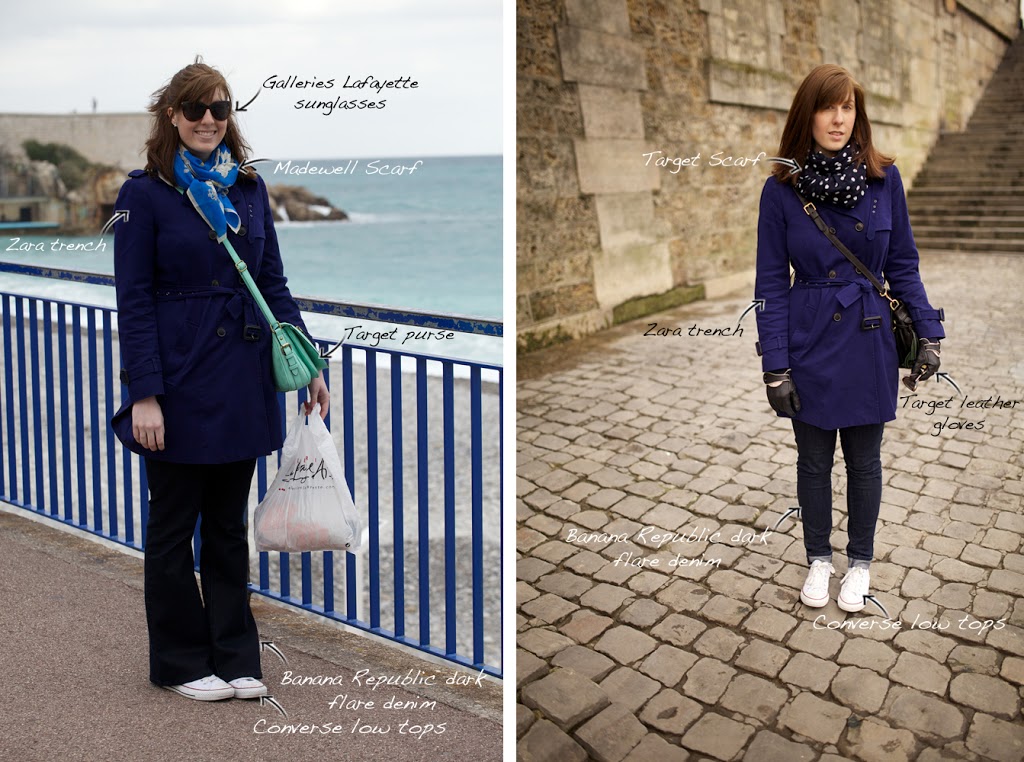 Most of my travel outfits are from very economical places, mixed with some pricier items.
And all of these looks can easily be put together with probably what you have in your closet.
Another important part of travel outfits is taking care of your clothes when you get home from the trip.
I almost always take all the coats I traveled with into be dry cleaned upon returning home, this way they stay really well kept for the next trip.
Bon voyage and happy styling!