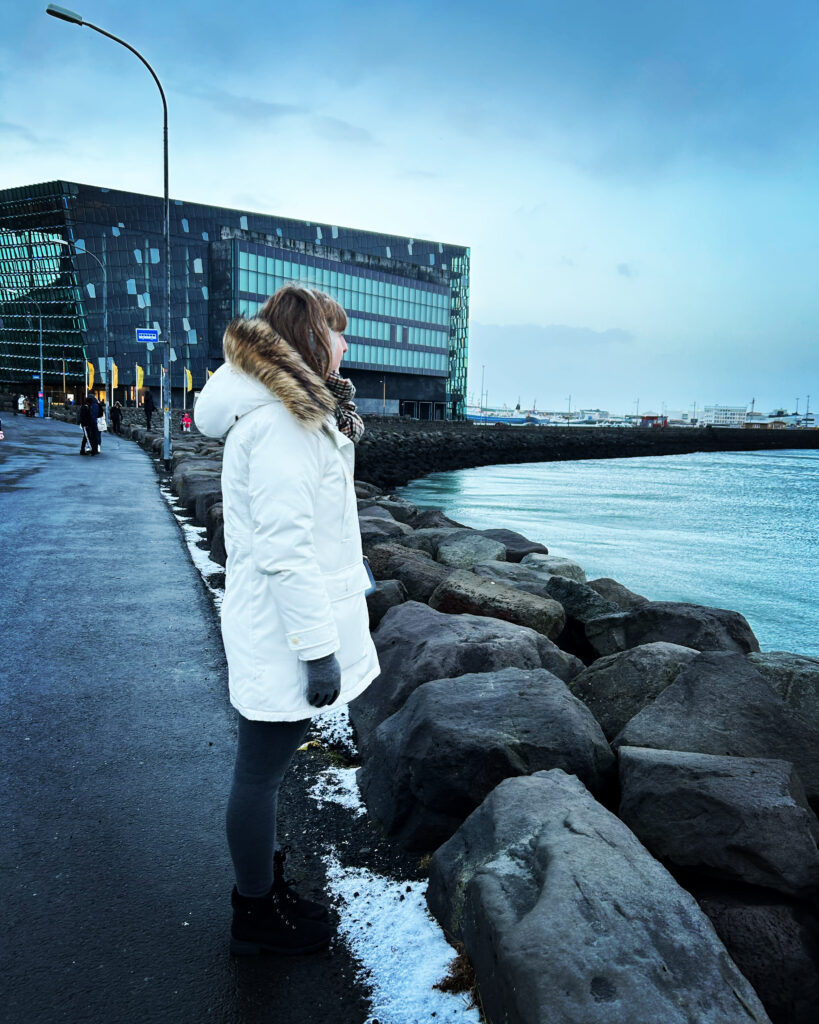 More What to Wear posts for more destinations here!
We escaped the routine of daily life for a Winter weekend in Iceland in February this year to return to one of our favorite places.  If you've looked around this site at a bit, you'll see how much we love Iceland and since our first visit to the island over a decade ago, we've made almost yearly trips back this place that is so special.  Iceland just calls to me and it's become a place we find solace in throughout the years.  I've written a lot about how special Iceland is and I can't wait until our next trip back.
We've now visited Iceland in every season and I can say with certainty that every season in Iceland is wildly different and what you pack and wear there is vitally important in order for you to have a worthwhile trip.  Our first couple of trips, I definitely did not pack and dress appropriately for the weather and I feel like all these years later I finally know exactly what is required for Iceland, no matter the season.
So with that knowledge and lots of outfit mistakes in Iceland, I am here to share what to wear for your trip, so that you can feel comfortable with your travel style for Iceland in Winter.  These tips for what to wear during the coldest part of the year in Iceland will help you stay warm but also keep you feeling like you aren't walking around in a ski outfit the whole time.  I have taken a lot of cues from the locals over the years, so here's how to look cute and stay warm when you're in Iceland in Winter.
And if you need advice for visiting different places around Iceland – here is everything you'll need to know:
Reykjavik | Southern Iceland | Northern Iceland | Eastern Iceland | Snæfellsnes Peninsula
What to Pack:
A quality down coat with a hood (preferably lined with faux-fur) – I bought the white coat in the images below on a J Crew Winter sale a few years back and it's been an amazing investment for our trips to Iceland.  You definitely want a down, insulated coat and a hood is a requirement for Iceland!  From the crazy wind to hail, you'll want a hood and the faux-fur lining helps to shield your face in the high winds, so I really like having that.  Also get a coat that extends to your thighs at least to keep more of your body warm.
Fur Leggings – I actually bought these for this most recent trip and they were a life saver!  They didn't feel bulky like snow pants and I didn't have to wear multiple layers.
Blanket Scarf – I brought just 1 scarf for this trip since it was only a few days but a blanket scarf is your best friend in Iceland.  A blanket scarf just means it's a large scarf and will allow you to really wrap yourself up in it.  You'll need a scarf in Iceland and I always pull it up around my mouth to keep my face warm.
A good pair of gloves – I have a pair I always wear that is heavy gray fabric on the top and leather on my fingers and they keep my hands really warm.  Keep them with you always!
Cross Body Purse for around Reykjavik – If you're staying in the city, a good cross body purse is perfect.  You don't want to be carrying a big bag around.
A Backpack is you're headed out into the country – If you're headed out to site see in the Icelandic country-side, a backpack is your best bet to bring everything you need.
Fur-lined boots – I have a couple pairs of faux-fur lined boots that I wear a lot in the Winter and they are perfect for Iceland.  Just make sure they are comfortable and keep your feet warm!  Also- pack heavy winter socks or double up on socks to make sure you feet stay warm!
Ear Muffs – This is my best Iceland hack for all times of the year – bring a pair of ear muffs.  I bought mine years ago on Asos and still use them every trip to Iceland no matter the time of year.  Iceland is very windy so ear muffs keep my hair pulled back and keep your ears warm.  I wear mine under my coat hood a lot while walking around.
A tip in general for Iceland – You don't need to wear ski gear.  Most locals know that a good investment coat like a down insulated parka will keep you warm and you don't need to wear ski-gear to stay warm.  You'll look out of place and it's really not necessary.  Just dress for about 10 degrees colder than the temperature says as the wind often lowers that "feels like" temperature in Iceland a lot.
What I Wore: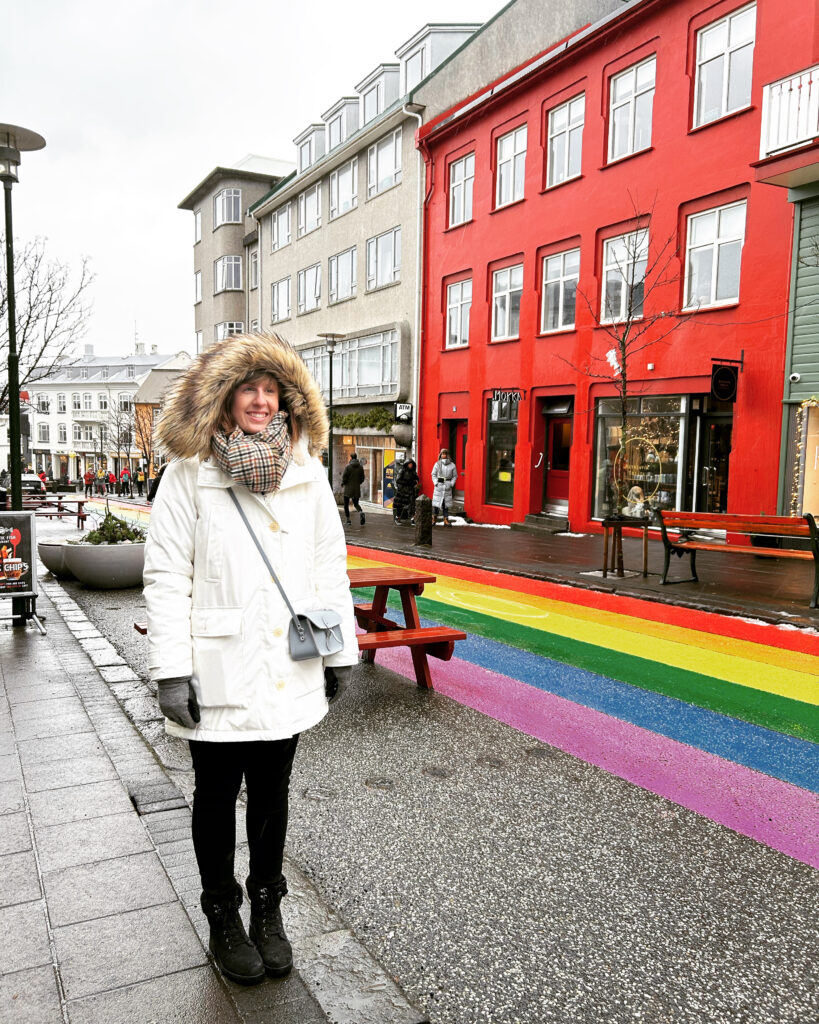 Outfit Details:
White Down Insulated Coat with Fur Hood (similar) | Black Jeans | Large Blanket Scarf (similar) |
Gloves (similar) | Cross Body Purse (similar)| Faux-Fur Lined Boots (similar) | Ear Muffs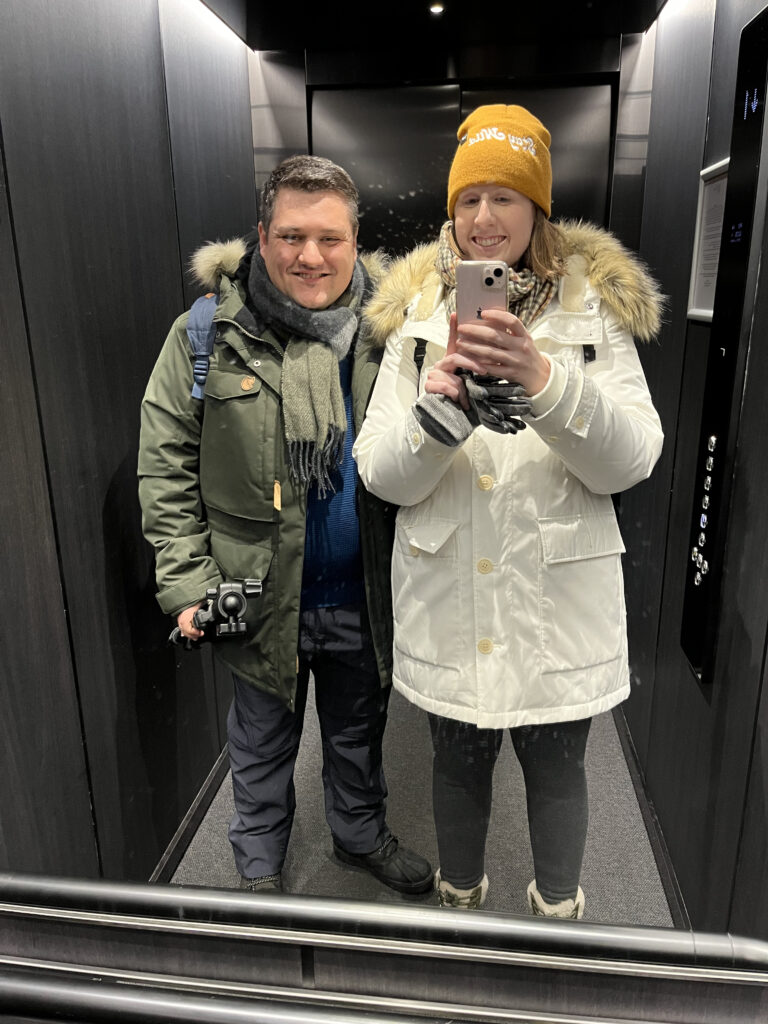 Outfit Details:
White Down Insulated Coat with Fur Hood (similar)  | Faux-Fur Lined Leggings | Large Blanket Scarf (similar)  |
Gloves (similar) | Anello Backpack | Faux-Fur Lined Boots (similar) | Beanie (similar)
Nick's Coat – Fjall Raven Parka
Traveling to Iceland?
See all of my posts on the country!