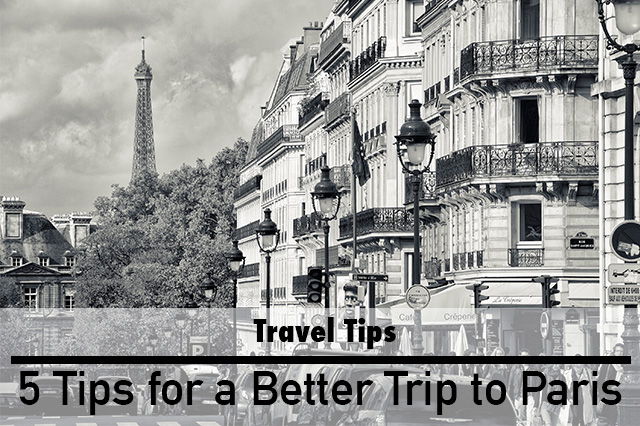 Paris is one of those cities that millions of people visit and yet, many times, asking those who have visited, they will tell you they either loved or hated it.  Or that they aren't sure how they felt about it because their itinerary was so jam packed while there, they didn't really experience Paris itself, but instead just the tourist spots there.  It's a common problem with tourists to the gorgeous French capital, many people spend so much time trying to fit in seeing everything they are "supposed to" see, instead of just taking in the city and really "seeing" it.  Paris is one of those places that is meant to be explored, not just seen, a place that is more about the feeling, the wandering, the insignificant sites around the city instead of the grand monuments.  And while those grand monuments and tourist spots are still worth seeing, don't base your whole trip around them.  Instead, here are five tips for a better trip to Paris!
1. Don't overdo your itinerary.
9 times out of 10, this is what I hear from people who visit Paris, they packed their days so full of seeing everything in the city from their guidebook, they didn't actually see the real Paris.  It's important to mark down the things in your guidebook that you really want to see, I'd say pick your top 5.  Then after that, don't worry about seeing the other things.  You'll probably end up seeing them as you wander or walk around the city anyways, but it's more important to spend your time really taking in Paris itself and enjoying the aura of the city instead of overwhelming yourself with too much on your itinerary.
2. Use the metro. 
The metro in Paris (their Subway) is one of the best in Europe and is so easy to use and get around the city.  We've only used a cab 1 time in Paris and that was the first time we went, since then we only walk or use the metro.  It's cheap, efficient, and will get you anywhere, often without a lot of changes.  To get your true value out of the metro though, it's important to know how many trips you're going to be making per day to get the best value ticket.  If you're going to be using 6 or more one way trips per day, the day passes for around 10 euros are the best deal.  If you're making less trips than that, then the t+ tickets are the way to go for cheaper.  Just keep your tickets handy as you'll need them to enter and leave the station.  Also, carry around a metro map with you at all times.  Mine is 4 years old and is ripped and torn all over, but it's my lifeline to getting around the city.
3. Don't just see the tourist spots.
Paris is filled with tourist spots, but in truth, many of my favorite spots are not found in a guidebook. They are found by wandering the city, taking in places that you might never hit had you followed your guidebook and finding those spots that speak to you.  While the Eiffel Tower and the Arc de Triomphe are wonderful, there are so many spots in Paris that are just as beautiful and just as "Paris" as those, if you take the time to look for them.
4. Wander.
One of the most important things to remember when traveling to Paris.  Take the time to just wander. I like to have a direction in mind, but on the way, you might venture off your path a bit or walk a zig zag path to your destination, but the journey is often more important than the destination in Paris.  Pick a spot you're headed to and then make up your path along the way.  You'll be amazed at what you come across.
5. Learn some French.
I would suggest this tip for any country you visit, learn a bit of the language.  However, it's particularly important in Paris.  While a large majority of people do in fact speak English there, it's polite and helpful to know a bit of the language.  Just to be able to read signs, menus, ask for the bill, it's easier if you can say certain things in French.  After all, we are in a French country, why shouldn't we make an effort to speak their language?
Headed to Paris?
Check out our Paris Travel Guide in the Land of Marvels Shop for only $5!