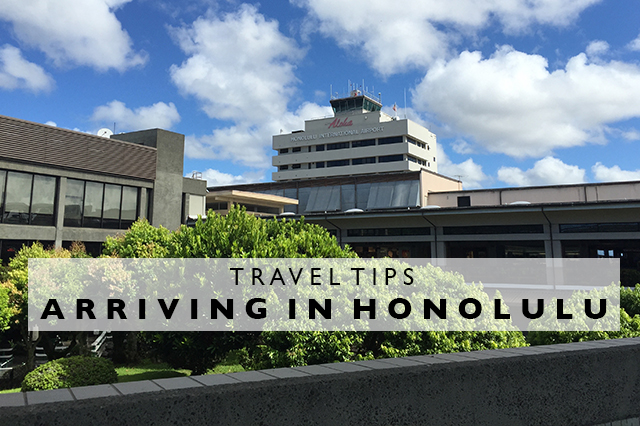 With back to back trips to Hawaii these last couple weeks for work (and a little exploring), I thought we'd do a couple consolidated Hawaii weeks on Land of Marvels!  So look forward to finding out all the inside tips you need to know before a trip to the Islands all this week and next!
If you're headed to Honolulu for the first time, there are some tricks to making your arrival in the Islands a whole lot easier than they often are!  While millions of tourists flock to the Hawaiian Islands chain each year, the infrastructure (including the airport) in Honolulu hasn't really been updated for a number of years.  You'll notice things as soon as you get off the plane, but while there may be some random issues to deal with upon arriving in Honolulu, here are some tricks to make it that much easier to start your vacation in paradise!
Don't expect great signage at the airport.
The Honolulu airport is notorious for maze like ways to get to gates and horrible signage.  You'll most likely get off your flight, look around (like everyone does) trying to figure out where to go.  Without a doubt, every flight I get off at Honolulu this happens and everyone bottle-necks outside the gate.  Just follow the crowds to the main areas and from there you should be able to find some signage or ask someone if needed.
If you're transferring to an inter-island flight, you'll need to change terminals.
If you fly into Honolulu on any airline but Hawaiian Air (and then even with them sometimes), you'll have to change terminals to get to the inter-island flights to connect to Maui, Big Island or Kauai.  Most likely you'll have to take a bus to transfer, though some gates will allow you to cut through from one terminal to another.  Just give yourself time to figure out where you need to be.
Renting a car can take forever…but that's changing.
Currently the rental car companies are down the road from the airport, so you have to take a shuttle.  They are also incredibly disorganized and it can take quite a while to get through the process.  However, construction is currently underway for a new modernized consolidated rental car facility, so be on the look out for that in the coming years to make it easier to rent cars at HNL.
Traffic can be really bad trying to get from the airport to Waikiki, so give yourself extra time.
If you're renting a car and driving yourself from the airport to Waikiki, or wherever you're staying, realize that traffic on Oahu can be really bad and back up really quickly.  You can go the back way on the Nimitz Highway from the airport, but realize that if the H-1 is backed up, Nimitz probably is too.  So give yourself extra time to get from place to place on Oahu.
Heading to Hawaii?  You can download my newest Oahu Travel Guide on my Travel Guides page!  The Oahu guide will be on sale for only $0.99 until Sunday 8/16!