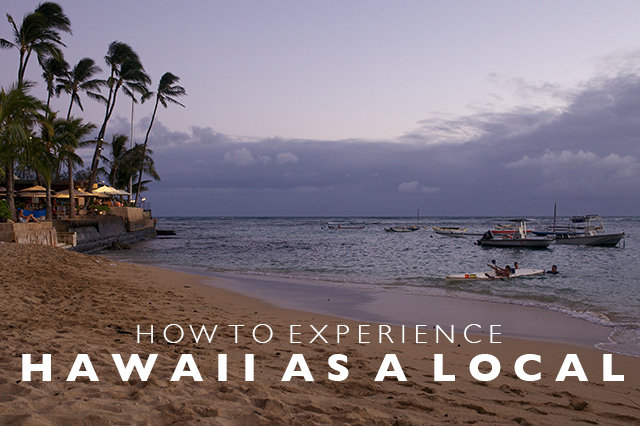 With back to back trips to Hawaii these last couple weeks for work (and a little exploring), I thought we'd do a couple consolidated Hawaii weeks on Land of Marvels!  So look forward to finding out all the inside tips you need to know before a trip to the Islands all this week!
Hawaii is one of those places where being a local and a tourist are really different.  The tourists spend most of their time on crowded beaches in crowded tourist areas paying high dollar prices for food and entertainment.  The locals live a different existence, trying to stay away from the tourist spots and embracing the rest of the island.  So if you want to experience the Hawaiian Islands as a local, here's exactly how to experience Hawaii as a local.
Taste the local food.
From ramen to plate lunches, taste the real local food of the island.  Whether you find a plate lunch place serving chicken katsu and mac salad or indulging in local ramen or udon, find a spot away from the tourist areas to try the local flavors.  You'll also pay a lot less than in the tourist spots.
Find a secluded beach.
To really experience the true beauty of Hawaii's beaches, you'll want to get out of the tourist spots and head around the island to the various beaches.  Sitting on a secluded beach all to yourself is a pretty amazing feeling and you'll enjoy the experience that much more.  I like going early before everyone wakes up which makes you feel even more secluded.
Venture out of Waikiki.
This is hard to do if you don't have a car, but on Oahu, if you can, venture out of Waikiki.  You'll get a much better sense of the local culture and see the vast landscapes of the island, instead of just the beach and Diamond Head.  You'll get a taste of what Hawaii is really about and you'll experience the local feel even more.
Get on Island time.
Island time is legitly a real thing.  Everything moves slower in Hawaii, due dates are more flexible and people really do go surfing before work.  Realize that things don't move as fast here as they do on the Mainland, so embrace is and just get on Island time when you arrive.
Understand local culture.
Hawaiian culture is vast and there is so much behind the history of the Hawaiian Islands.  Do some research before heading to Hawaii to understand the social and political views there so you're ready to start exploring and honoring the local culture!
Appreciate the beauty of the Islands.
One thing no one can contest is the natural beauty of the Hawaii Islands.  Even though I'm not a real beach person and don't love the heat, can't say the Hawaiian Islands aren't beautiful.  From mountains to rainforests to coves and lava fields, the Hawaiian Island chain should be appreciated.  The locals know their home is beautiful, so be sure to appreciate it while you visit.
Headed to Hawaii?
Check out our Oahu Travel Guide in the Land of Marvels Shop for only $5!