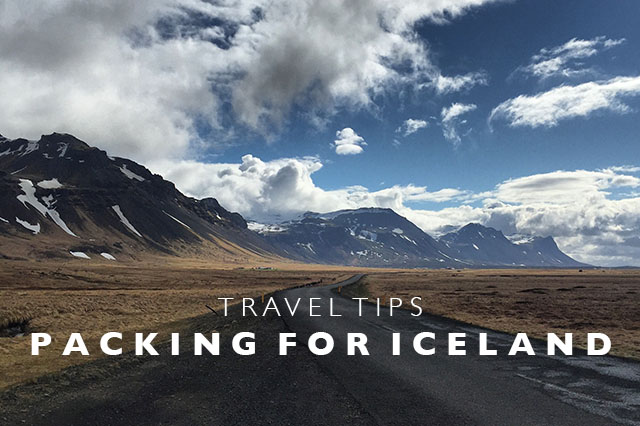 Packing for Iceland can be a hard thing to do.  It's fairly cold most of the year and even if the sun comes out, the weather can change really quickly so you need to be prepared for any weather that might come your way.  It's also a country that is very remote, so many of the things you should pack will be unique to Iceland.  Our trip at the end of May proved to be hard to pack for, since there was still a lot of snow on the ground and rain was forecasted for most of our time there.  The highs were somewhere in the 30's most days while there, but in Iceland, the temperature usually feels a good 5-10 degrees cooler than what it says, so prepare yourself and your wardrobe for that.  I'll be doing a Travel Style post in the days to come, but for now, here's some of the top things to remember when packing for your trip to Iceland!
What not to forget when packing for your trip to Iceland: 
1. Hand Warmers
I brought with me 2 small hand warmer packets, which are liquid when not activated and then just snap to create warmth.  They were small enough to bring through airport security in my carryon but packed a lot of warmth when I needed them.  I actually only used them the morning we spent at Godafoss, but I was so glad to have them.
2. Layers!
When packing your wardrobe for your trip to Iceland, pack lots of layers!  Even at the end of May, I was wearing leggings under my jeans and multiple layers on top because of the chill in the air.  So pack lots of scarves, multiple pairs of warm socks and things you can wear to stay warm and then take off it you need, like hats or ear muffs.
3. Lots of Camera Memory and Extra Batteries
You'll be taking lots of photos in Iceland so bring lots of memory.  You'll also notice all your batteries dying faster than normal there… it's due to the cold temperatures, so bring extras!
4. Snacks
If you're driving around Iceland (like we did), you'll want lots of snacks as often there are hours between towns and even then, you can't bank on them being open.  We brought with us granola bars and small snacks and then also bought more in Reykjavik before leaving for the North.  You want to make sure if nothing is open, you have something to eat on your way to your destination.
5. Comfortable Clothes
When we were packing for Iceland, I really didn't want to take my purse since most of the time we would be in the car or out exploring the countryside.  I opted to bring a backpack instead of my usual handbag and it was such a good decision.  It was so much easier to head out exploring with only my backpack, so make sure to bring comfortable clothing items that you aren't going to worry about.  Iceland is not a place for your designer wardrobe, bring clothes that are ok to get dirty and that are easy to use.
6. Boots
I brought my rubber wellies with me on this trip and I was so glad I did.  There were lots of spots that were either wet, snowy or muddy and it was great to not have to worry about my converse getting too dirty or soaked through.  Boots will be your lifesaver as you climb over rocks or through water in Iceland.
Headed to Iceland?
Check out our Iceland Travel Guide in the Land of Marvels Shop for only $5!