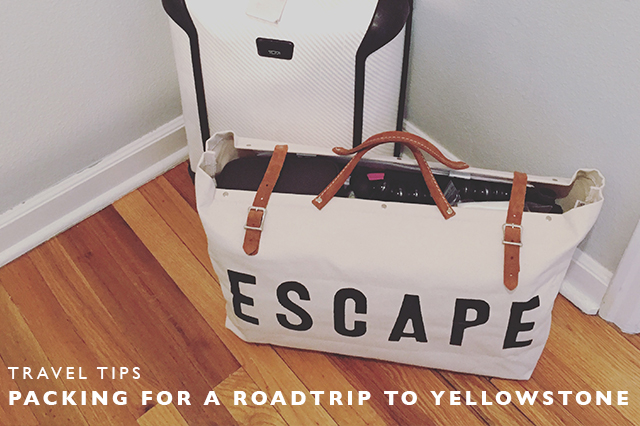 We are headed off tomorrow for an epic road trip eventually leading us to Yellowstone National Park!  Though we're also making a number of stops before getting there, like finally seeing the Palouse in Eastern Washington and spending a couple days in Glacier National Park and Kalispell, Montana.  This is a much different type of trip for us and I found it difficult to begin packing for it.  There are a number of things for this trip that are required that I'm not used to packing or bringing with us and when I started searching online for a packing list for this type of trip, I found it hard to find.  So, here is my own list for packing for a road trip to Yellowstone and what you might need!
Outdoor Clothes + Layers
When packing for this trip, the weather was sort of all over the place from place to place.  Some were going to be hot in the upper 80's, some were going to be rainy and in the lower 60's, so figuring out what clothes to take was tricky.  The key?  Layers.  Even the places that would be warm during the day are cold at night and in the early morning, so layers are the answer.  Vests and light coats with hoods were essential in my packing to be sure to meet the requirements for each location.
Be sure to pack clothes that can get dirty as well as hiking boots or shoes that you're comfortable walking in outdoors.  I also made sure to pack a couple hats to keep the sun out of my face when out and about.
Camera gear
Since we're driving, it's easier to take a ton of camera gear with us for this trip.  Nick is packing specific lenses for what type of trip this is, but he is also renting lenses that he doesn't have from lensrentals.com.   We do this frequently and it's great to be able to rent anything that might be specific to a trip.  Be sure though to handle your equipment carefully and pack it well to travel with.
Binoculars
One thing that kept popping in my research for Yellowstone specifically were to bring binoculars. Apparently to see wildlife, it's a great thing to have!
Food storage / Cooler
A lot of the stops on this trip might not necessarily have a ton of restaurants or we might be out exploring all day and not near towns or cities, so a cooler or some sort of food storage was necessary for us to bring.  We figured out in our itinerary the places where we would stop and buy food for specific things like breakfast or snacks while out and about through the day.  While we didn't have a cooler, we found a great collapsible one on Amazon for only $30 which will be easy to pack up and carry around with us.
Water Bottles
Again, since we'll be out and about most days, it's good to take a reusable water bottle to fill up and have with you throughout your time on the road.
Hat + Sunscreen
As I mentioned above in the clothes section, a good hat (or two) is important to block sun out of your face while out and about exploring.  Sunscreen is also vital since we might be out hiking for hours on end and you want to protect your skin from the elements.  This is my favorite sunscreen!
Blanket to Sit On
I spend a lot of time when traveling waiting for Nick to take photos.  And since this trip will be no different and we might not always be near the car or have somewhere to sit, I bought an outdoor blanket that rolls up into a pack with a handle so that I have something to sit on while I wait.